Introducing our indoor WPC wall panels, the perfect solution to enhance the aesthetics of your interior spaces. Made from a combination of wood fiber and plastic, these panels are not only eco-friendly but also durable, waterproof and easy to maintain.
Our WPC wall panels come in a variety of designs and colors to suit any style preference, from sleek and modern to rustic and traditional. They are also easy to install, thanks to their lightweight and interlocking system, which ensures a seamless and professional finish.
These panels are not only great for adding a decorative touch to your walls but also for insulating your home against heat and noise. They are fire-resistant and have excellent thermal and acoustic insulation properties, making them a safe and practical choice for any indoor space.
Whether you're renovating your living room, bedroom or office, our indoor WPC wall panels are the perfect choice for a quick and stylish upgrade. So why wait? Transform your walls today with our premium quality WPC wall panels and create a cozy and inviting atmosphere in your home or office.
PODUCT FEATURES
Indoor WPC (wood-plastic composite) wall panels offer a variety of features that make them a popular choice for enhancing the aesthetics and functionality of interior spaces. Here are some of the key features of indoor WPC wall panels:
·Waterproof: WPC wall panels are resistant to water and moisture, making them a great choice for use in areas where humidity is present, such as bathrooms, kitchens, and laundry rooms. They are also resistant to mold, mildew, and rot, making them a durable and long-lasting solution.

·Easy to install: WPC wall panels are designed to be easy to install, with a simple interlocking system that requires no special tools or expertise. They can be installed directly onto walls or ceilings, and can be cut to fit any size or shape.

·Low maintenance: WPC wall panels require very little maintenance, making them a convenient and hassle-free solution for any interior space. They are easy to clean and do not require sealing or staining like traditional wood paneling.

·Versatile: WPC wall panels come in a variety of colors and textures, which makes them a versatile solution for any interior design style. They can be used to create a modern, minimalist look or a more traditional, classic appearance.

·Eco-friendly: WPC wall panels are made from a combination of wood and plastic, which makes them a sustainable and eco-friendly option. They are made from recycled materials and are recyclable at the end of their life.
Overall, indoor WPC wall panels offer a durable, waterproof, and low-maintenance solution for enhancing the aesthetics and functionality of any interior space. Whether you're looking to create a modern, sleek look or a more traditional, classic style, WPC wall panels can be customized to match your design preferences and needs. Application: Hotel, Office; hotel; shopping mall; living room, etc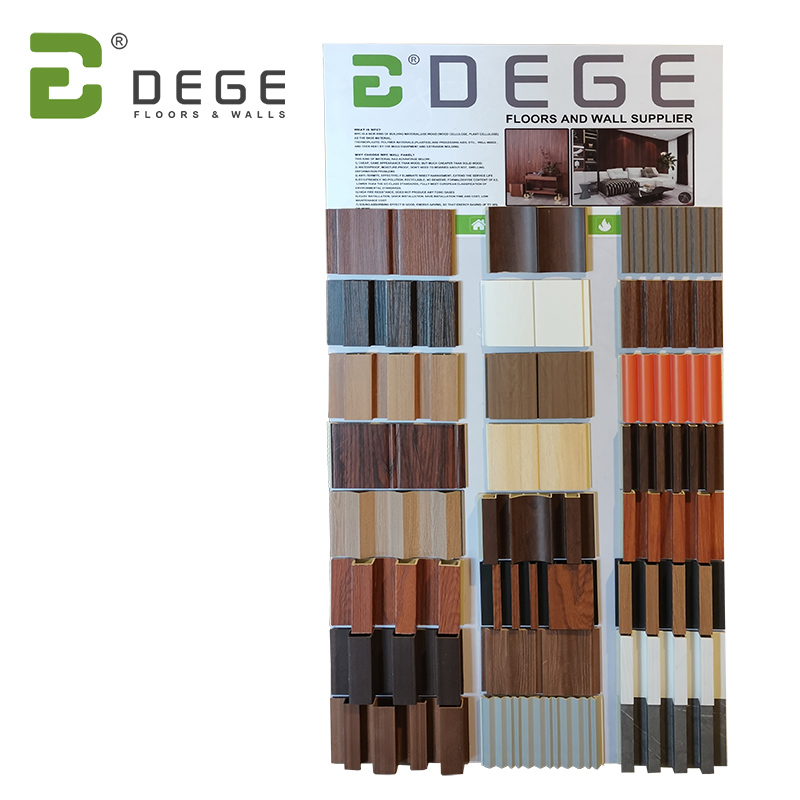 ---
Post time: Oct-16-2023