Covered decks can be the ideal place to take in the scenery. Not only does this mountain house have big, beautiful front windows, it also has an awesome outdoor living space to hang out on. The wood decking material is a great choice as it matches the rustic design seamlessly while also providing a natural feel.
If your outdoor living space has a view like this, it only makes sense to create as much entertaining space as possible. This series of tiered wood decks is the perfect way to make usable space out of sloping grades. We especially like the way the wood deck changes directions in certain areas. Use this technique to designate areas of a large deck for different uses.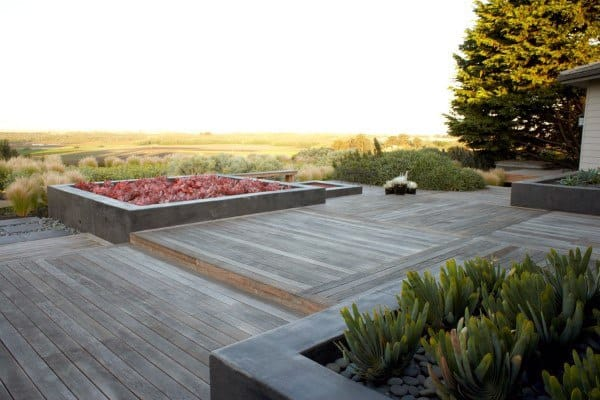 A wooden deck can be perfect for small spaces. This small deck is a great space for an outdoor kitchen where guest can eat while enjoying a glass of wine. Situated perfectly off of the main living area, this custom deck also provides a great way to add some entertaining space during a large party. With the french doors open, guests can flow in and out at their leisure.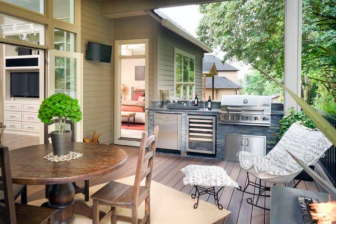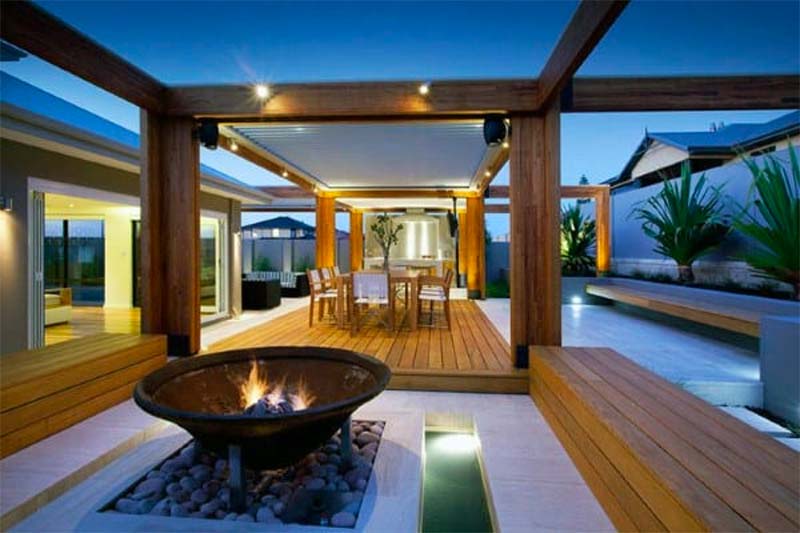 If you're looking for a way to bring some color and life into your deck design, this idea may be perfect for you. A multi-colored contemporary deck like the one pictured here is a fun way to bring some interest underfoot. There are several ways to achieve this look, but the easiest way is to stain batches of decking in three or four different colors. Simply mix and match the colors as you install the deck boards for an interesting, random look.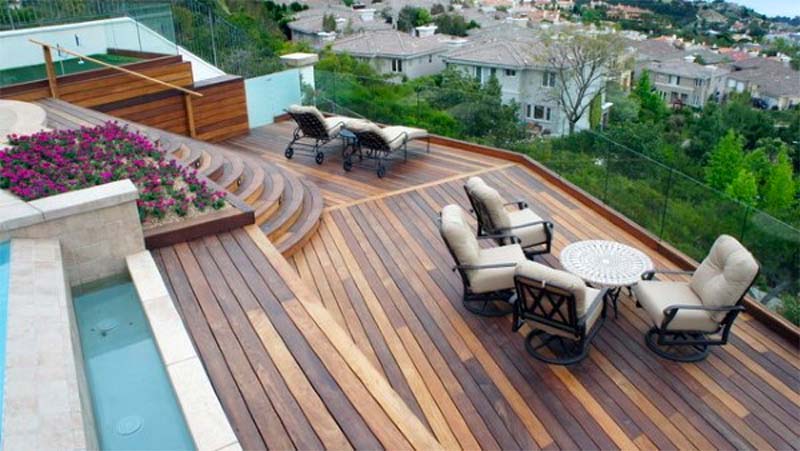 A ground level deck is perfect for improving the aesthetics of small backyard spaces. This deck design idea is built around several trees in order to provide room for them to grow. When building a ground-level deck, consider adding height with built-in features like planters or seating areas. If there is a slight slope to the yard, building two tiers is a great way to add some interest and function.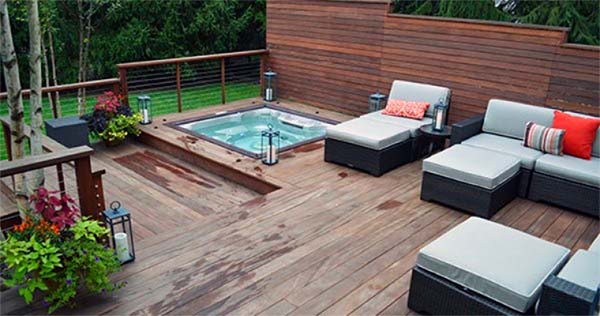 Built-in pergolas are awesome for small decks in desperate need of shaded seating. These shade-suppliers should be accounted for during the design process. Since a pergola can be quite heavy, it's important to know where the posts will be located so you can dig proper footings to carry the weight. It'll be heavy enough with all your guests after you finish this great modern deck idea.
If you've got a few different functions in mind for your backyard deck project, take a design cue from this setup. The upper deck has a privacy-style railing around a hot tub for lounging in luxury, while the bottom tier is the ideal place for grilling and entertaining. The stairs then lead down to the yard, where another backyard patio can be used for a table and chairs to kick back and relax around.
---
Post time: Sep-16-2022