Wood plastic material in the current life is more and more used, become the best material to replace the anti-corrosion wood, so how should the wood plastic floor be installed?The main accessories for installing wood plastic decking include wood plastic keel or square steel keel, floor Clips(divided into plastic floor clip and stainless steel floor clip), screws, etc.
Preparation before Installation, Ensure that the concrete floor of the construction site is flat. This is very important.The wood-plastic keel is fixed directly on the ground with an expansion screw.,Space between plastic expansion screws  is 500mm~600mm.
Use electric drill lead a hole on the keel, the lead hole diameter should not be less than the diameter of the screw, and then put the screw into the drilled hole, the keel on the cement ground, the nail head should be all turned into the keel, do not expose, otherwise may lead to uneven floor layout.Here the installation of the keel is only as a reference, in fact some keels can be fixed by stainless steel fasteners.
The left and right sides of each wood plastic decking has grooves. When paving the first deck floor, cut one side grooves of the first floor, Then  lead holes on the surface of the floor, and fix it to the keel,or you can aslo use ss start clip to install the first WPC board.The second plate is then connected by plastic or metal fasteners, which clips are sandwiched between the two plates and hit into the keel by the screws.Attach the spacer clip to the other side of the WPC decking board then fix the spacer clip with a screw down to the keel.Then slip next WPC decking board firmly up to the spacer clip.Any piece in the middle should be supported over the keel or battens.
There are important measurements to keep in mind when installing composite decking, and those are the spacings. Composite decking boards are able to expand and contract with the weather, so it is important for you to take note of and act on the correct spacing allowances when installing your composite decking to avoid damage.
Due to the thermal expansion and cold contraction of the wood-plastic floor, a gap of about 5mm needs to be left at the connection between the two plates.
How to install composite deck boards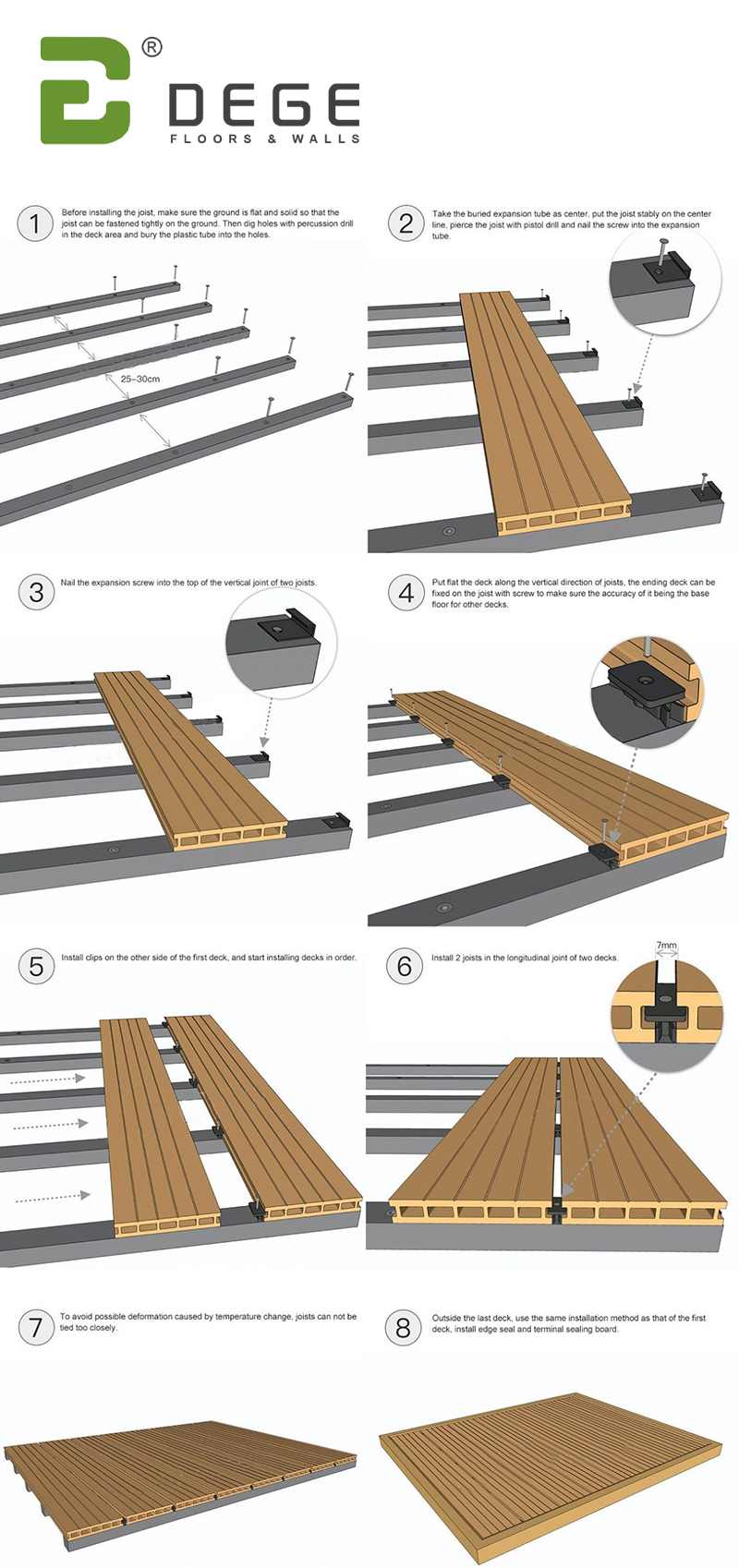 ---
Post time: May-22-2023