The beauty of our acoustic wood panels is the simplicity and ease with which you can personally create a wall or walls of fluted slat panels. When it comes to sound absorption panels, there are no better wood acoustic panels available, and if you want a professional finish, but without the 'professional price', these acoustic wood panels are perfect for you.
 What makes our acoustic wall panels so special?
When it comes to acoustic panels and sound absorption panels, it is easy to immediately think of the 'egg carton style' of paneling you see in recording studios. The trouble is, that type of sound panels for walls looks terrible anywhere else and even then, it doesn't look that good.
Modern wall panels such as this acoustic wall panels have opened up a whole new world of options, enabling slatted wood wall panels to look good in every imaginable scenario, whether in your home, office, or public space.
The vertical wood slats have a hint of tradition with a contemporary twist, while providing a highly effective acoustic, sound-absorbing quality thanks to the recycled felt backing material.
Designed and manufactured not just for their attractive aesthetic appeal, these panels with wood slats can be easily installed by anyone with basic DIY skills and are adaptable to virtually any environment, while the ease of altering the size and shape of the wood acoustic panels means you can have a DIY slat wall with a feature window or a framed ultra-slim OLED television for example. Not only can they be used to create a wood slat wall, but also a wood slat ceiling, while the flexibility of the acoustic backing felt means the panels can also be mounted on curved surfaces that can create an additional feature of a slat wall.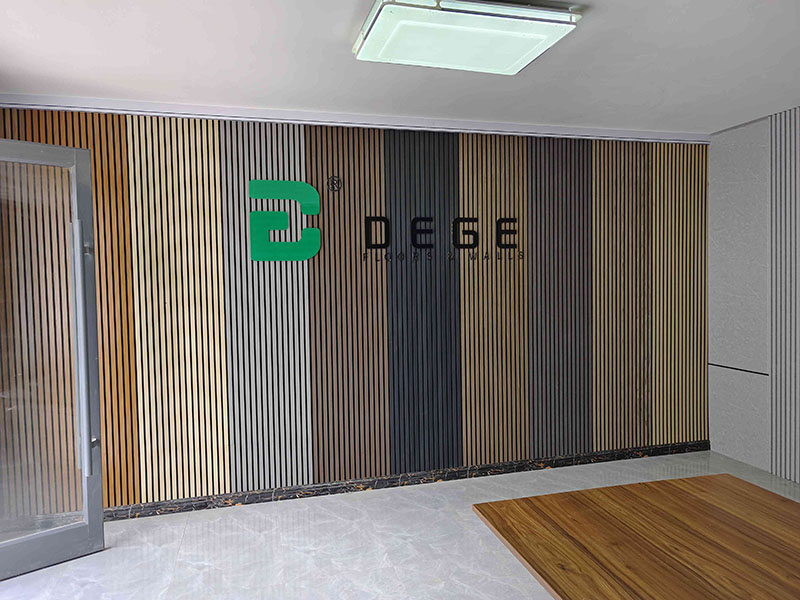 ---
Post time: May-08-2023