Product Detail
Color Display
Installation and Accessories
TECHNICAL SPECIFICATIONS
Product Tags
What is Waterproof interior wall Panels ?
WPC Waterproof interior wall Panels is a kind of artificially produced environmentally friendly wood-like material. Various types of product shapes and different specifications continue to appear in decoration applications. The ecological wood great wall board is one of these types.
WPC Great Wall Panels, as the name suggests, is a decorative board modeled on the undulating pattern of the Great Wall abutment, with grooves inside and card slots on both sides. Different from other shapes similar to "pottery board".
Wpc interior wall makes people's lives closer to nature with its natural pure wood color. It has a natural wood feel and texture, which replaces expensive solid wood. It is a new type of building materials field that can replace natural wood and metal widely used in different areas. Environmentally friendly recycled wood.
Waterproof Wall Panel aplication;
Wpc has been applied to a wide range of fields by virtue of new technology.
In addition to the three series of ceiling, shutters, and triangular panels, the interior decoration products are used for indoor TV background walls, bedside background walls, wall skirts, shutters, bathroom wall and balcony decorations, ceiling decorations, and pillars. This kind of modeling use.
Can choose size:
150*10mm
169*27 mm
195*15 mm
195*28mm
195*30mm
Can choose length:
Arbitrarily long
Can choose colour:
Asian pomelo, Thai pomelo, golden sandalwood, red sandalwood, silver walnut, black walnut, walnut, dark mahogany, light mahogany, cedar (creamy white), cherry color (pink)
Raw materials:
Wood fiber for ecological wood, Pvc
Interior Wall Panel is one kind It is a wall decoration material, the main material is wood-plastic material  (wpc), a new environmentally friendly material. wood color, cloth pattern, stone colors are available for choose, and it has the advantages of waterproof, termite, silent, easy install, etc. Widely used in home improvement and commercial places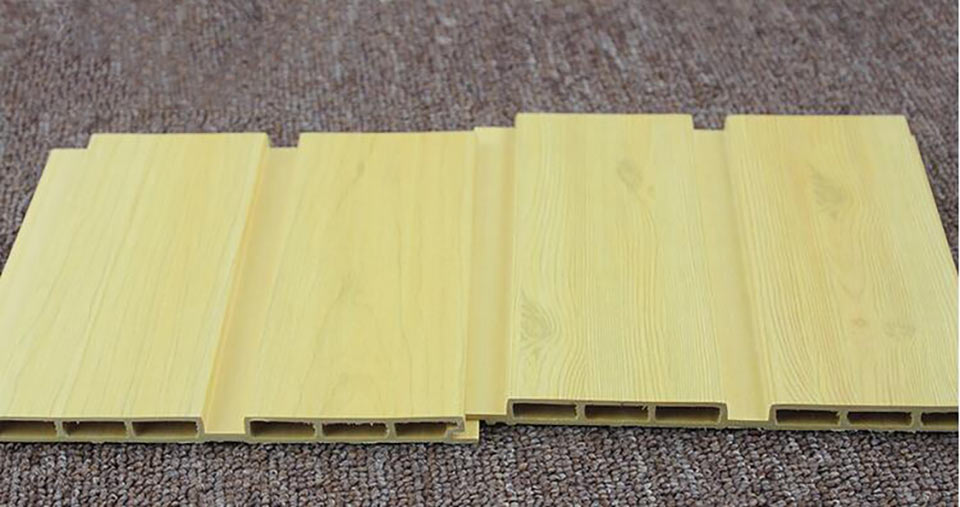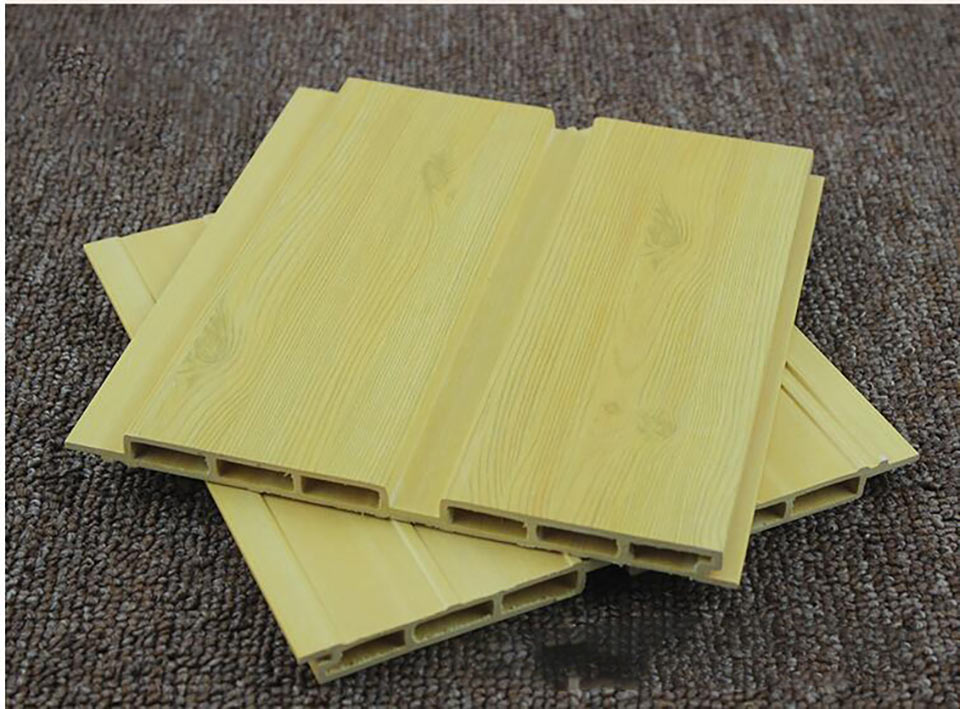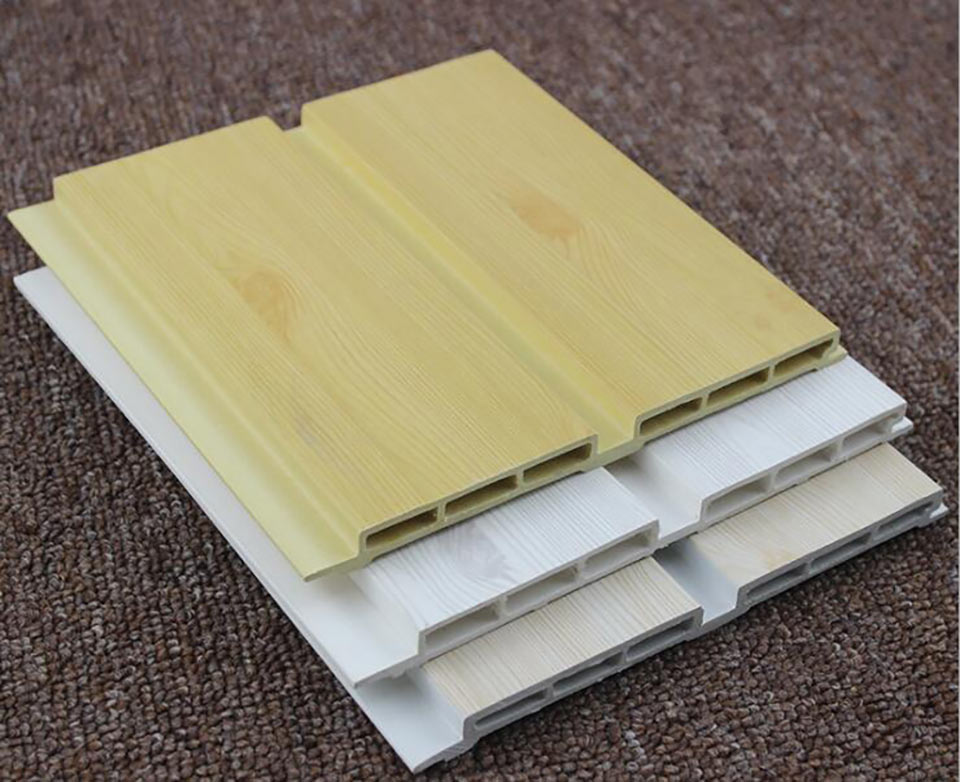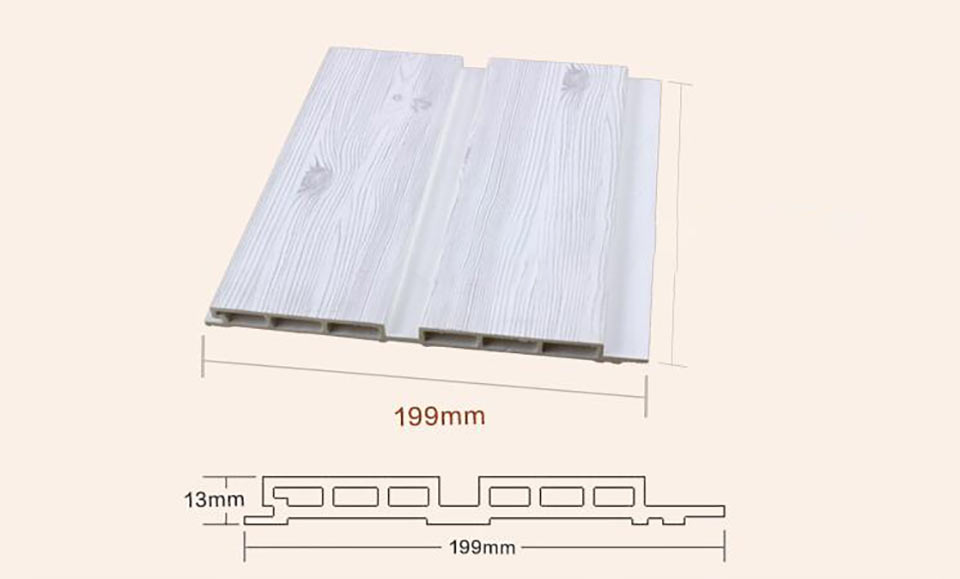 Product name
100% Waterproof Interior Wall Panel,
Model
 Bathroom Wall Cladding
Size
 2900*199*13mm
Surface
Pvc Film Laminated
Material
WPC: Wood Pvc Composite.                                         A mix of wood flour and poly ethylene with the addition of certain additives
Color
Oak,Gold, Mahogany, Teak, Cedar, Red , Classic grey, Black walnut
Minimum order
Full 20ft Container , 500 meters per Color
Package
Standard canton
Water absorption
Less than 1%
Flame- retardant level
Level B
Payment term
30%T/T in advance,remainder 70% paid before shipment
Delivery period
Within 30 days
Remark
The color and the size can be changed according to your request
Application

Advantage

Hotels, commercial buildings, hospital, schools, home kitchen, bathroom, interior decoration and so on
1) Dimensional stability, longevity, natural feel
2) Resistance to rot and crack
3) Stable over a wide temperature range, weather-resistant
4) Moisture resistant, low flame spread
5) High impact resistant
6) Outstanding screw and nail retention
7) Environmentally friendly, recyclable
8) Broad range of finished and appearance
9) Easily produced and easily fabricated
10) Contains no toxic chemicals or preservatives
Interior Wall Panel Effect Picture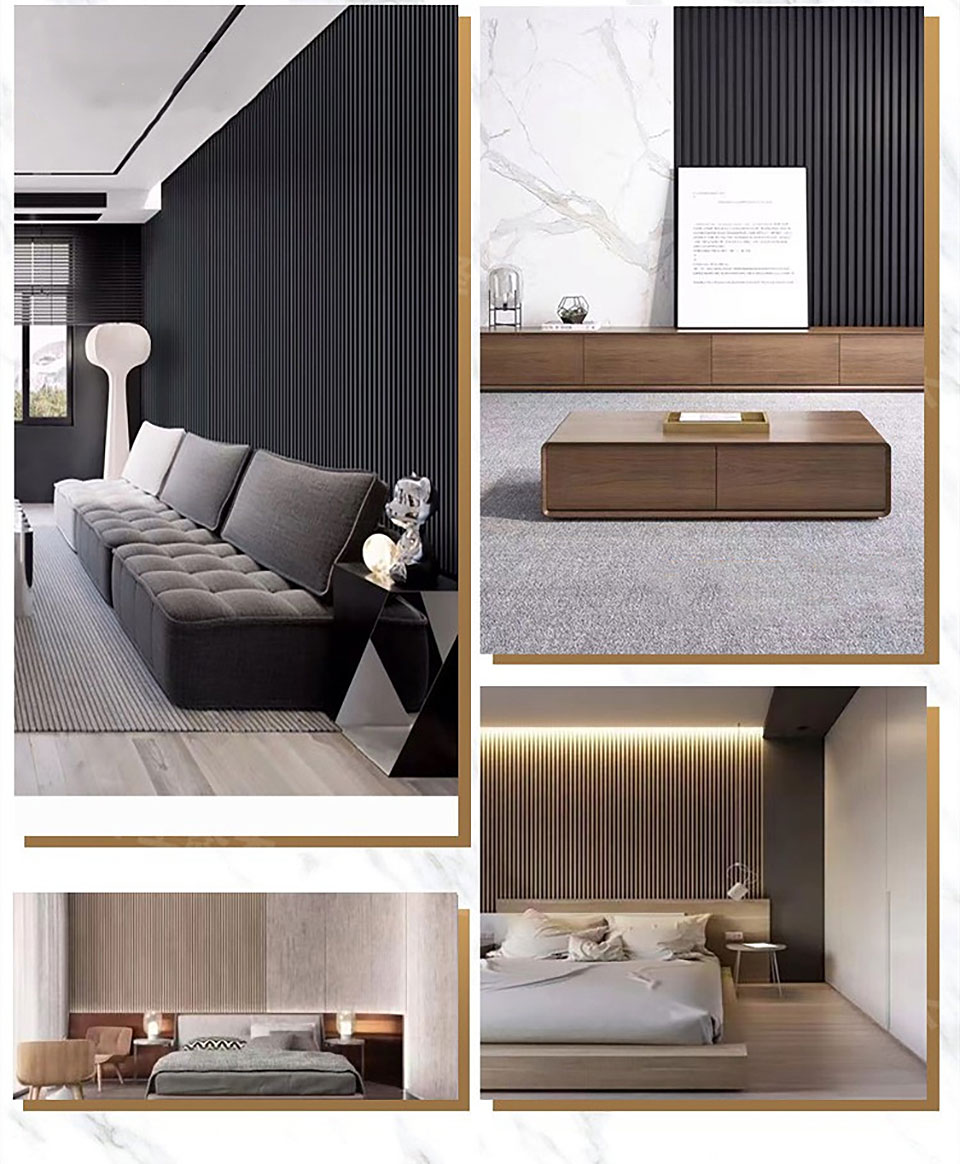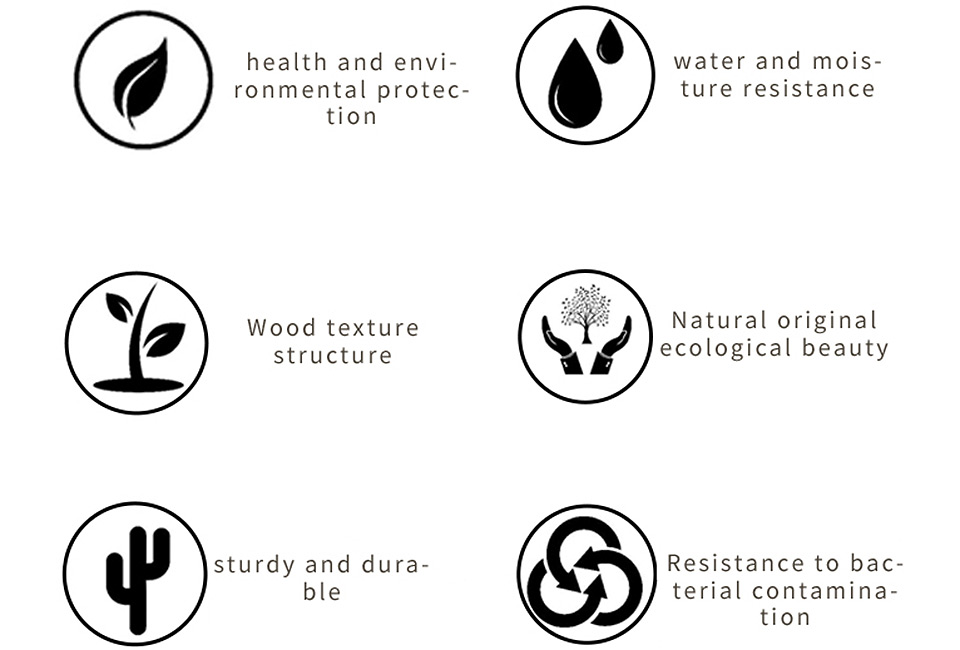 The Advantage of Wall Panel
100% Waterproof indoor wpc wall
Fireprof indoor wpc wall
Scratch resistant indoor wpc wall
100% Waterproof indoor wpc wall
Scratch resistant indoor wpc wall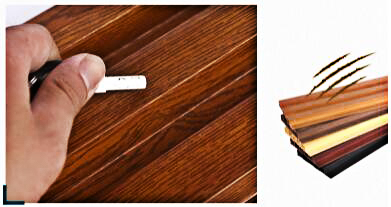 Wpc Wall Panel Production Process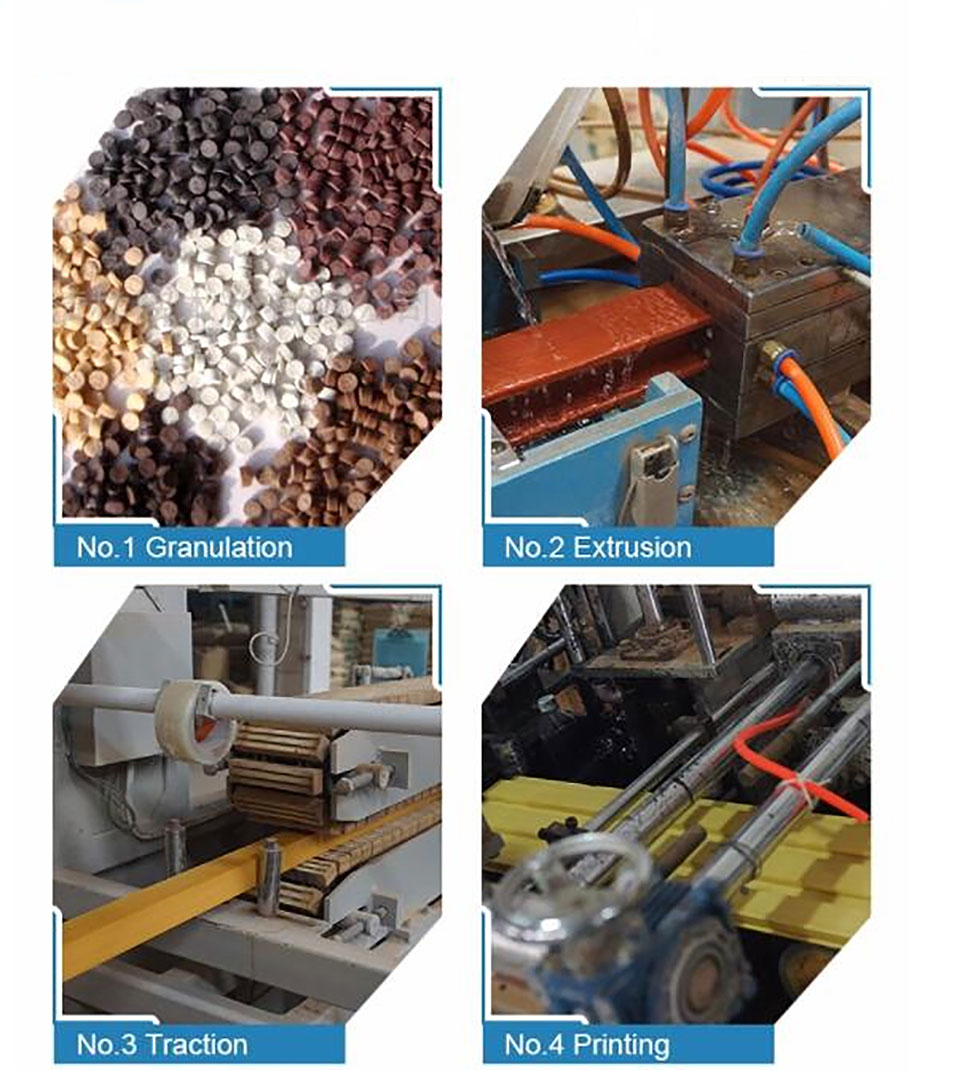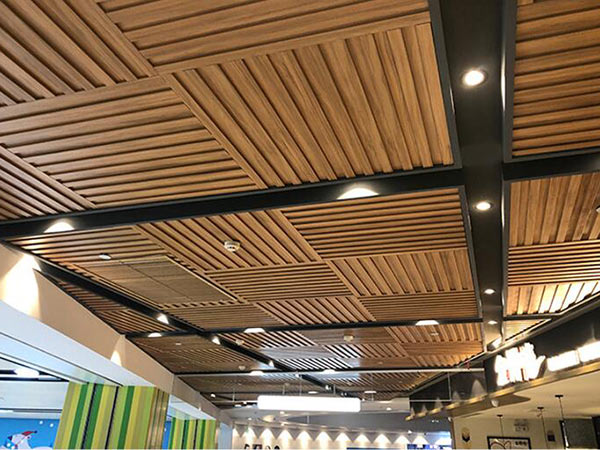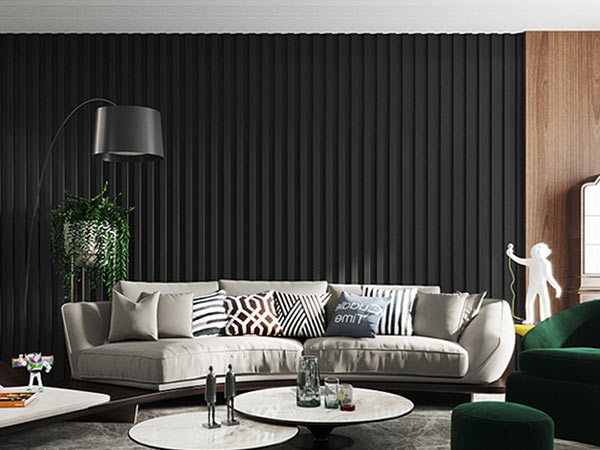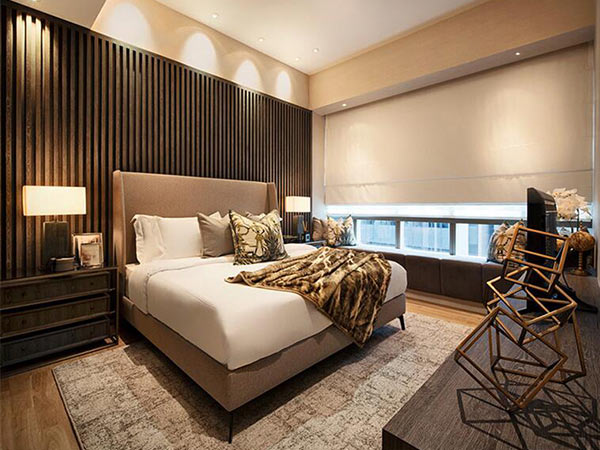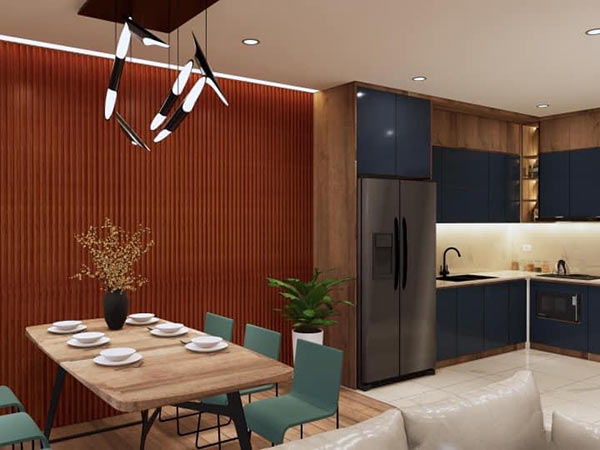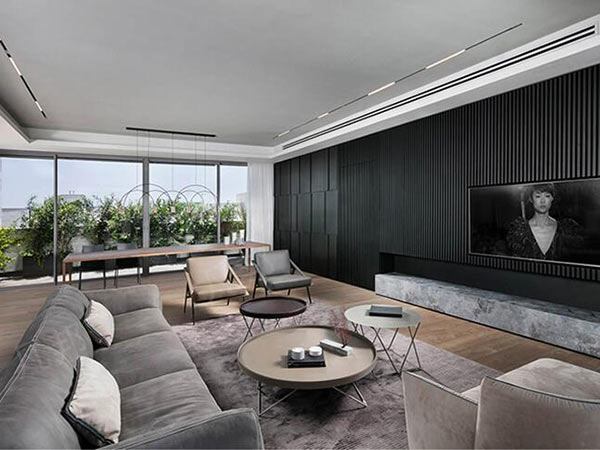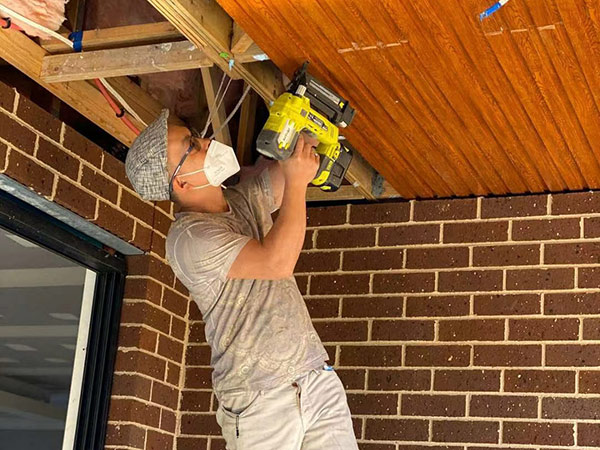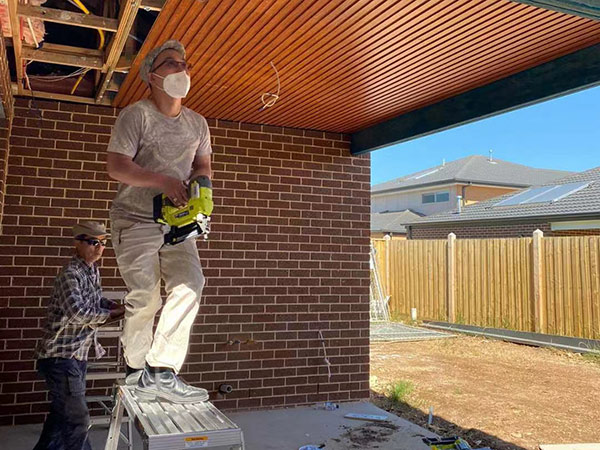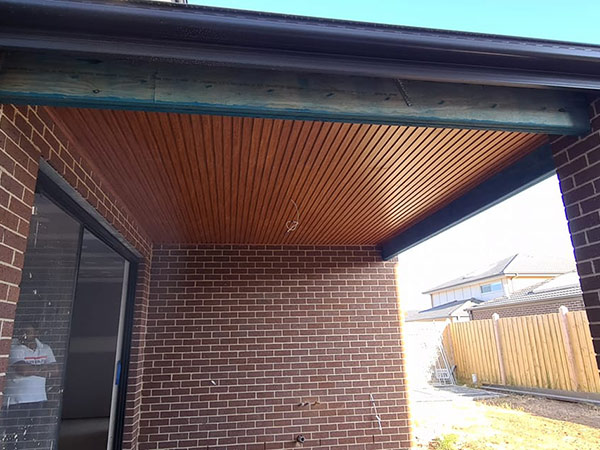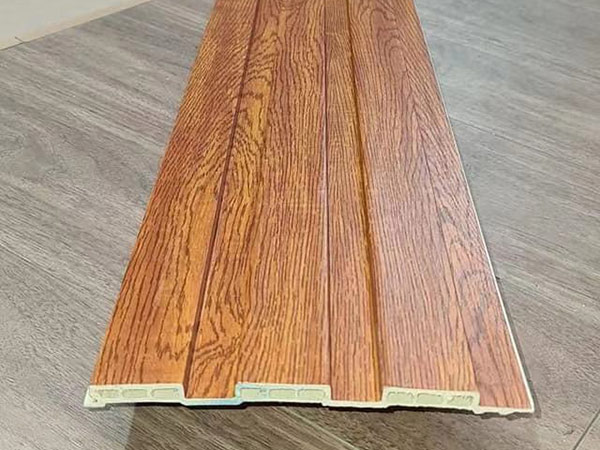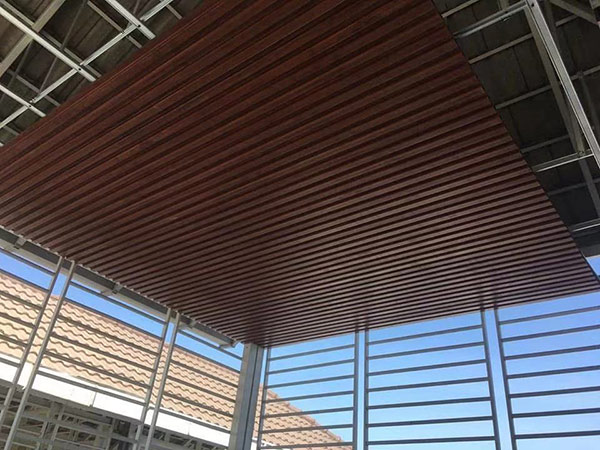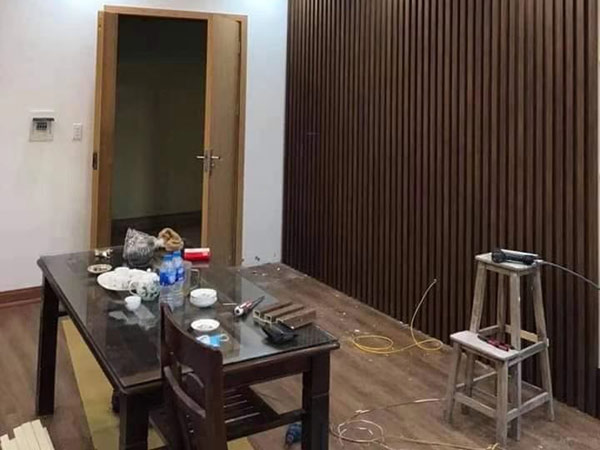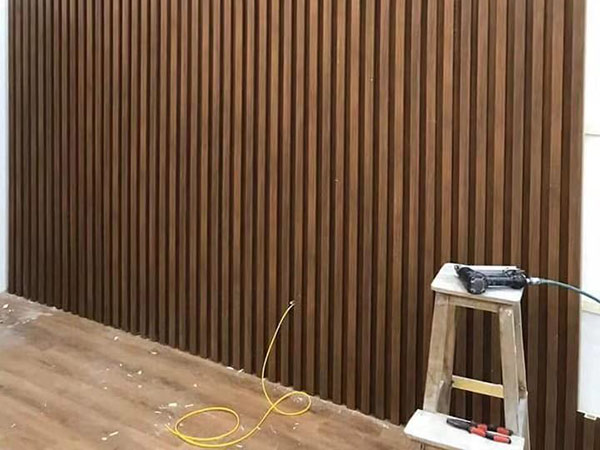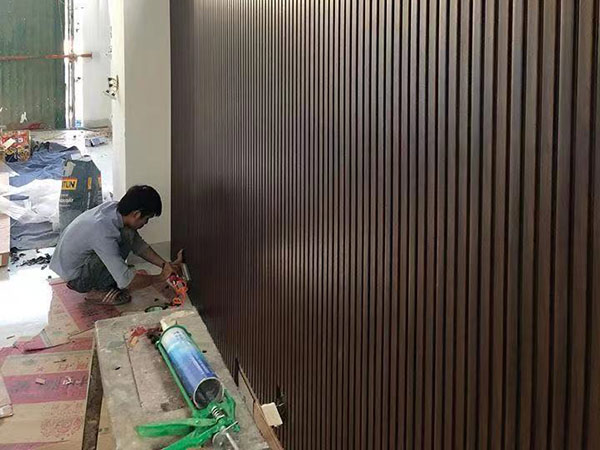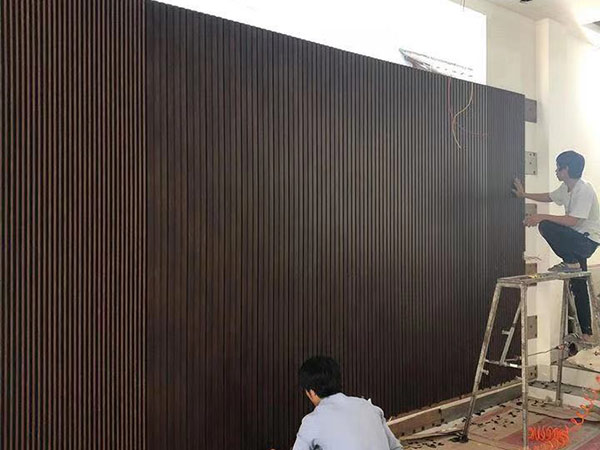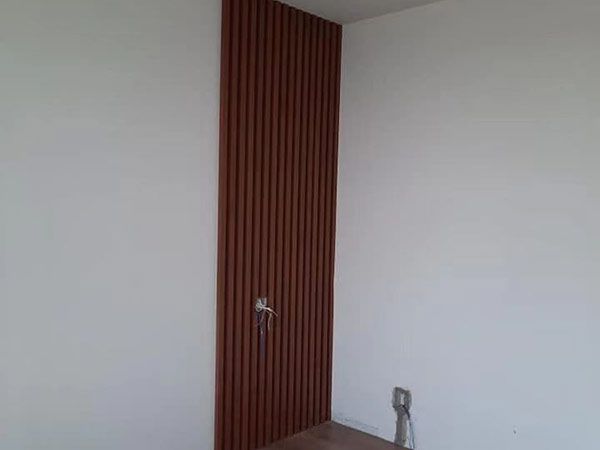 ---
---

Installation
1.Interior Wpc cladding Panel Installation Video tutorial 1:
Directly Use an air nail gun directly to fix the nail on the edge of the wall panel lock to fix the wall
2.Interior Wpc Louvre Installation Video tutorial 2:
When the wall is uneven, apply styrofoam to the back of the Wpc Louvre board, and directly use an air nail gun to fix the nail on the edge of the wall panel lock to fix the wall
3.Indoor Wpc Wall Cladding Install Video tutorial 3:
Fix the Wall Cladding lock directly through the metal clips, if the flatness of the wall meets the installation requirements

The Accessories for Wpc Wall
1.Concave Line
2.L Edge
3.Metal Clips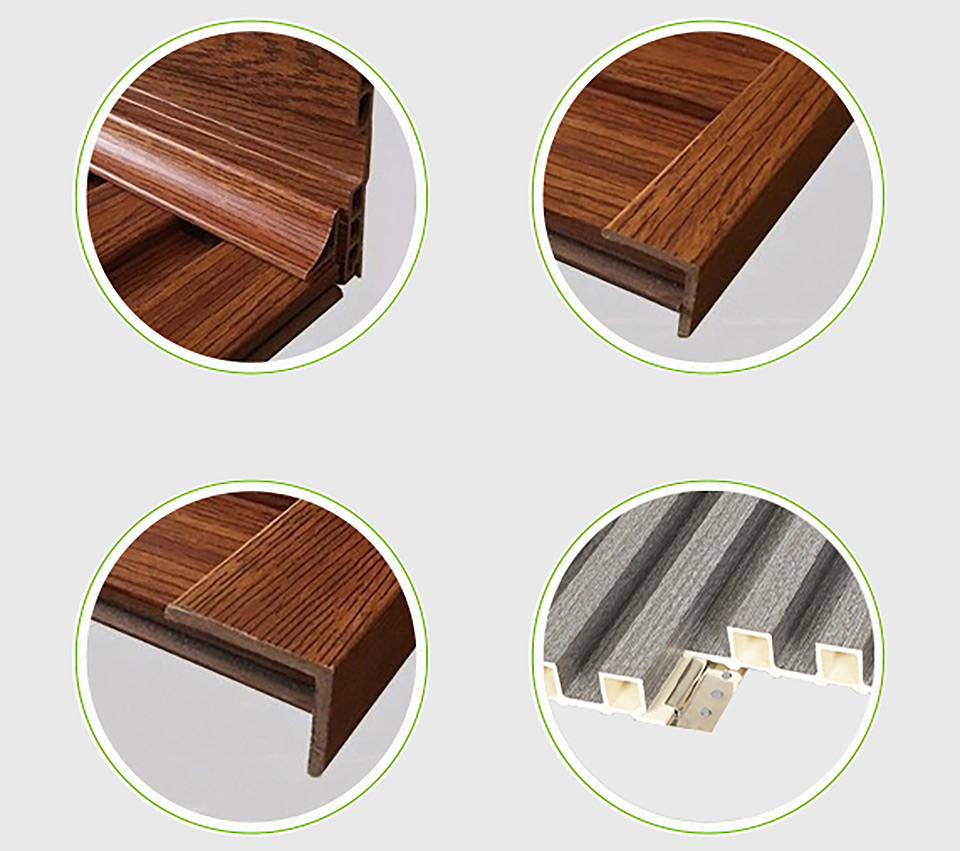 The Wpc Wall Installation for Wall and Ceiling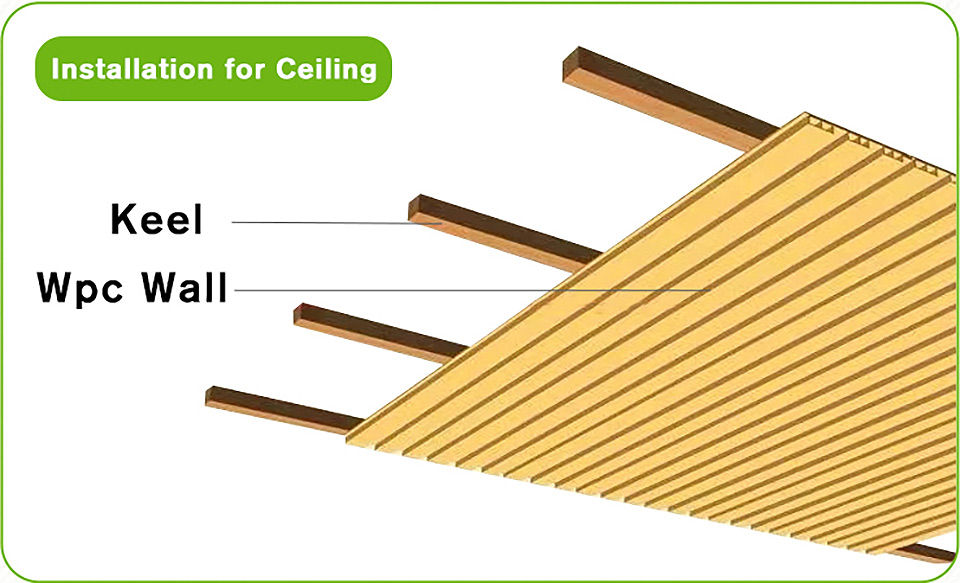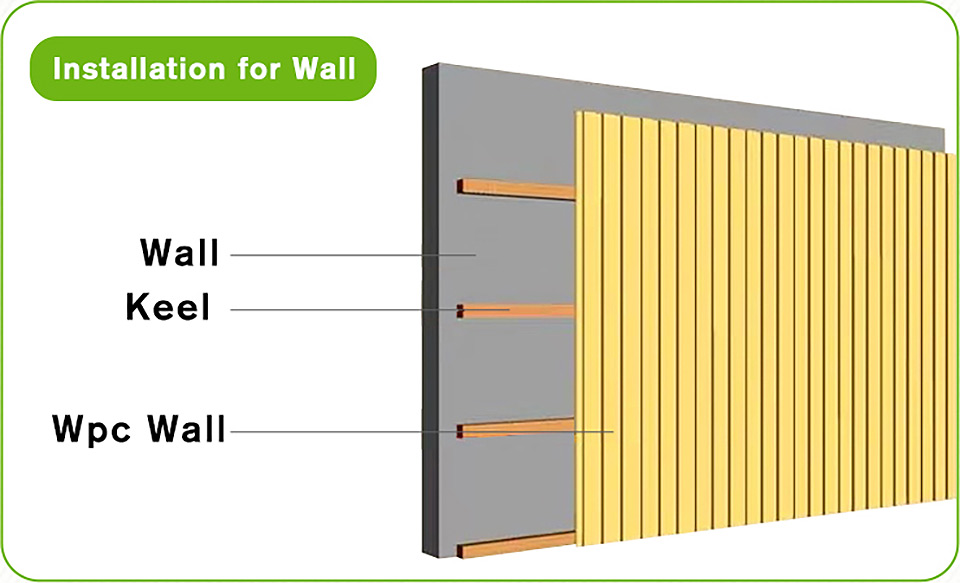 The first step is to confirm whether the wall is flat. If the wall is flat, you can install indoor wpc wall panels directly on the wall. If the wall is uneven, you need to install wooden keels on the wall as a support first, and the distance between each keel must be 25 cm apart.
In the second step, since the indoor wpc wall panel is click lock installation, it is only necessary to fix the wall panel to the wall or the keel through the metal clips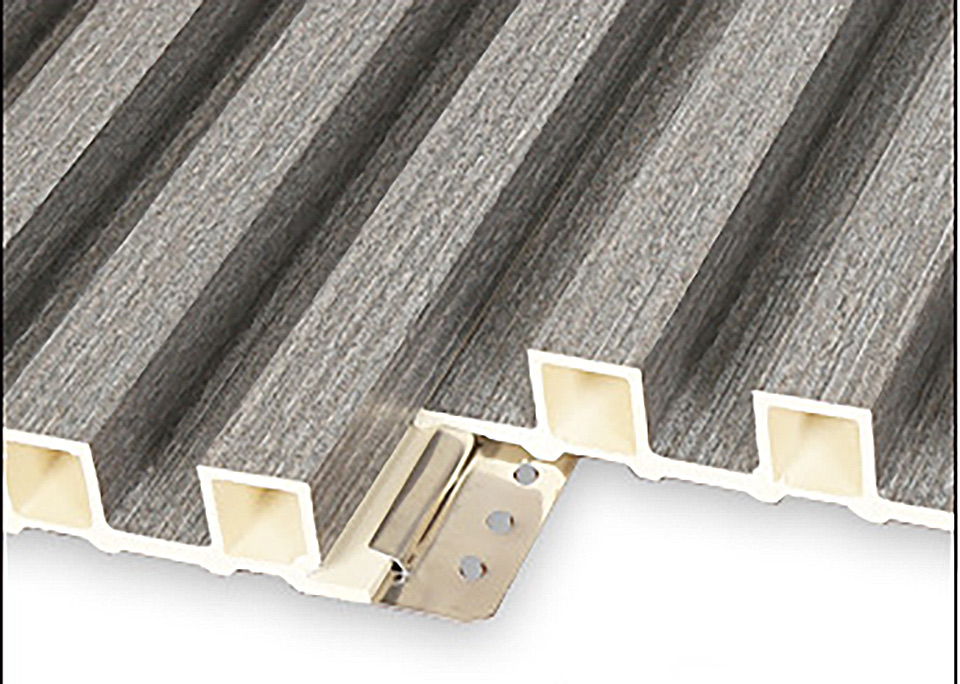 The third step, when the first wall panel is fixed in the second step, after the second wall is inserted into the first wall panel lock, repeat the second step to fix the wall panel on the wall or keel
The fourth step, repeat the third step
No
Characteristic
Technology Target
Remark
1
Appearance
No chipping, cracking, visual texture, delamination,  bubbles,  shallow embossing,  scratches,  dirt,  poor cut,  etc
ENEN649
2
    Size                                            mm                                              (23℃)
Length
   ± 0.20mm
EN427
Wide
   ± 0.10mm
EN427
Thickness
 +0.13mm,  -0.10mm
EN428
Thickness Range
    ≤0.15 mm
EN428
wearlay Thickness
  ± 0.02 mm
EN429
3
Squareness       mm
 ≤ 0.15
EN427
4
Crook   mm
 ≤ 0.15
EN427
5
Microbevel Cut Angle
 8-15 degrees
Microbevel Cut Depth
0.60 – 1.5 mm
6
Dimensional stability after exposure to heat
≤ 0.12%
EN434
7
Curling after exposure to heat
WPC:≤0.2(70℃/6Hr)
EN434
SPC:≤0.2(80℃/6Hr)
8
Gloss level
nominal value ± 1.5
Lightmeter
9
Taber Abrasion  - Minimum
0.5mm wear lay
≥5000 cycles Average
EN660
10
Uv
8~12g/m2
11
≥9N
SCRATCH PERFORMANCE     UV
SCLEROMETER
12
Anti-stain performance
 Iodine
3
Modified ASTM 92
Oil Brown
0
Mustard
0
Shope Polish
2
 Blue Sharpie
1
13
 Determination of flexibility
no crack
EN435
14
Peel Resistance
Length
≥62.5N/5cm
EN431(62.5N/5cm,100mm/s)
width
≥62.5N/5cm
15
Residual indentation (average)  mm
≤0.15
EN433
16
Color fastness:
≥7
ISO105-B2:2002
17
Locking Strength
fsmax ≥2 .5N/mm
ISO24344
Write your message here and send it to us
RELATED PRODUCTS