Product Detail
Color Display
Installation
Carbonized Bamboo Flooring
Product Tags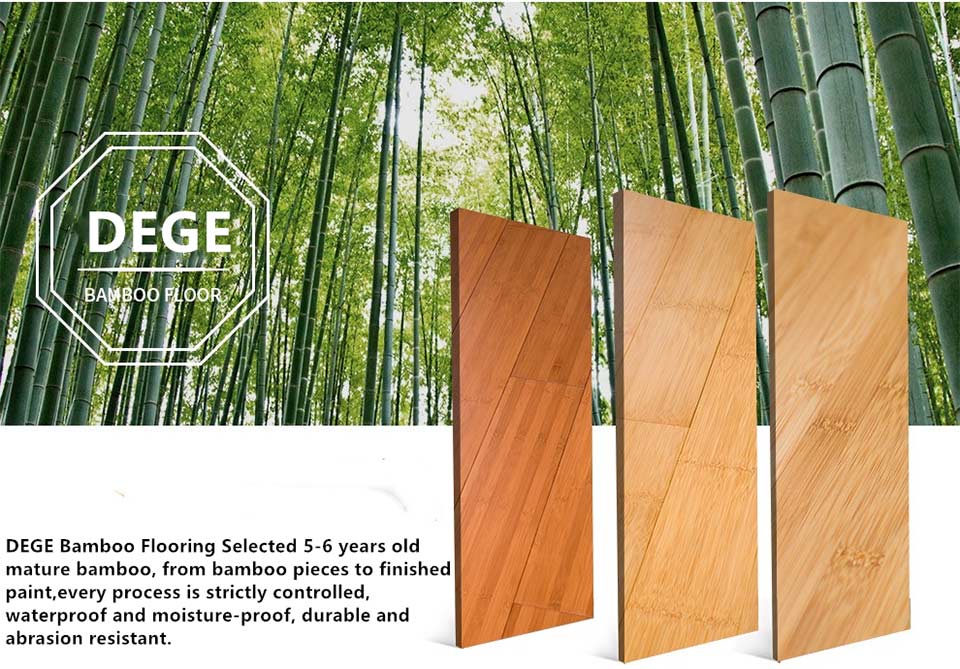 What Is solid bamboo flooring ?
Solid Bamboo flooring is made of natural high-quality bamboo as raw material, and is made of high temperature and high pressure after special harmless treatment. It has a super anti-moth function. With the natural texture of bamboo, it has both the natural beauty of log floors and the strong and durable advantages of ceramic floor tiles.
According to the surface structure, bamboo flooring can be divided into three categories: radial bamboo flooring-lateral pressure bamboo flooring; string surface bamboo flooring-flat pressure bamboo flooring; and reorganized bamboo flooring. According to the processing method of bamboo flooring, it can be divided into natural bamboo flooring and carbonized bamboo flooring. The natural color bamboo floor maintains the original color of the bamboo, and the bamboo strips of the carbonized bamboo floor must undergo high temperature and high pressure carbonization treatment to deepen the color of the bamboo slices and make the color of the bamboo slices uniform.
Flooring is a very important part of home decoration. Whether it is the quiet and delicate color of bamboo floor or the tactile enjoyment it brings to people, it is a home decoration that is very suitable for home life. It gives people a fresh and refined feeling. It is flexible. , Good stability, suitable for all ages. And the beautiful natural and delicate appearance of bamboo flooring, used for home decoration, is simply a visual feast. Bamboo flooring is made through layers of processing. Relatively speaking, bamboo flooring is quite different from ordinary flooring, especially in terms of texture and shape. Bamboo flooring has more advantages than average in terms of price. The floor is a bit more expensive. Of course, bamboo flooring also has the natural advantages of being warm in winter and cool in summer.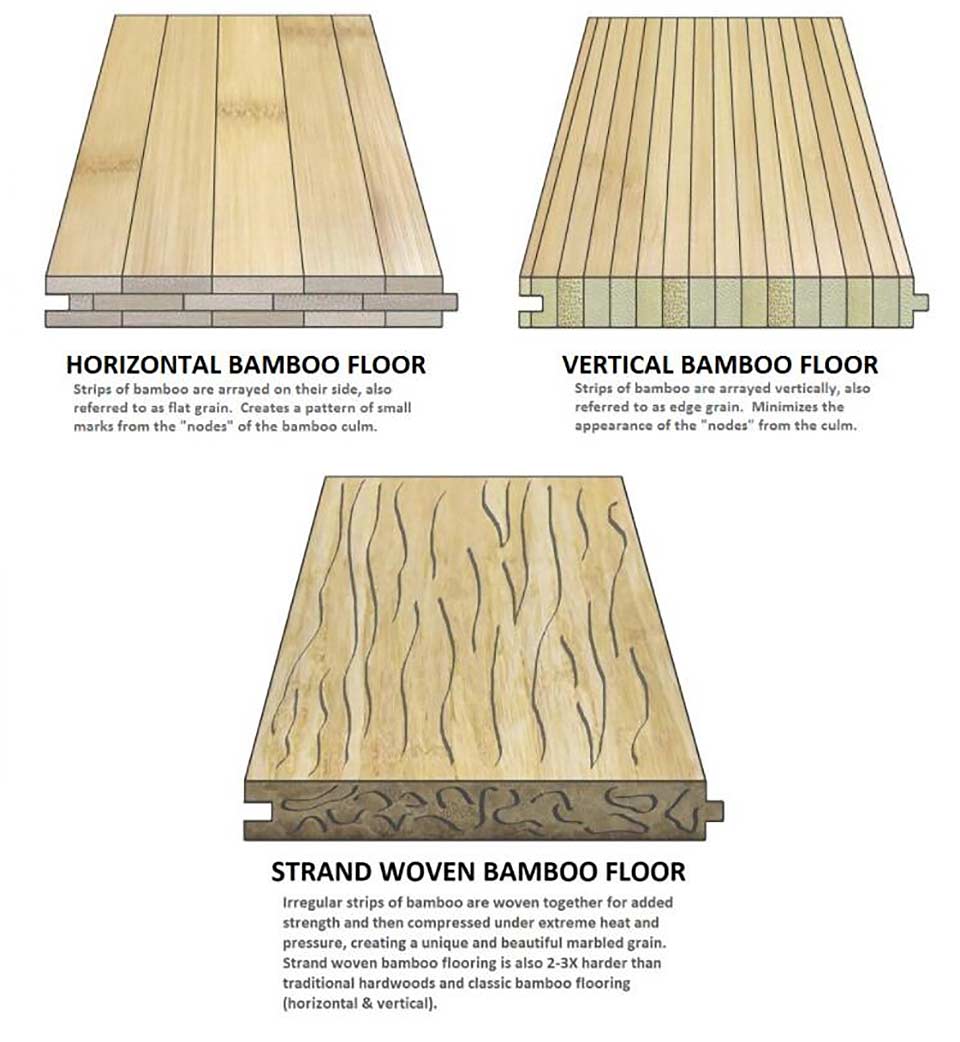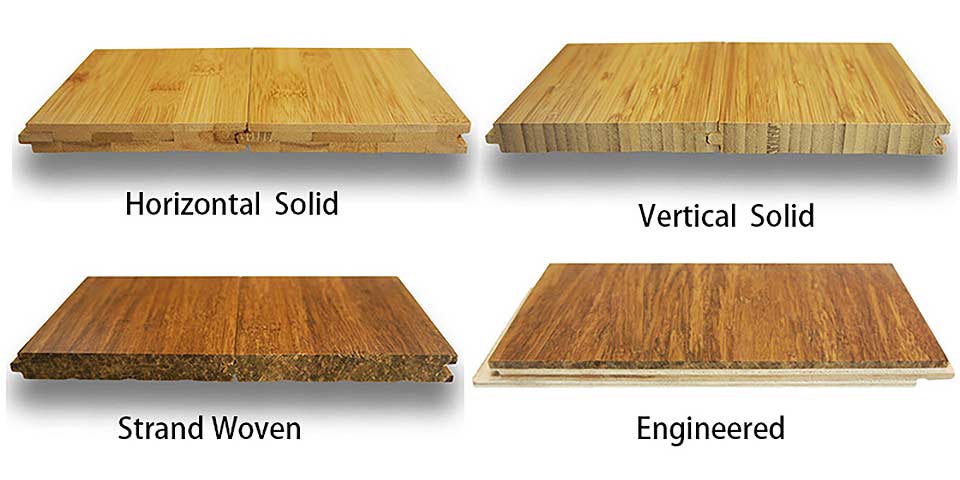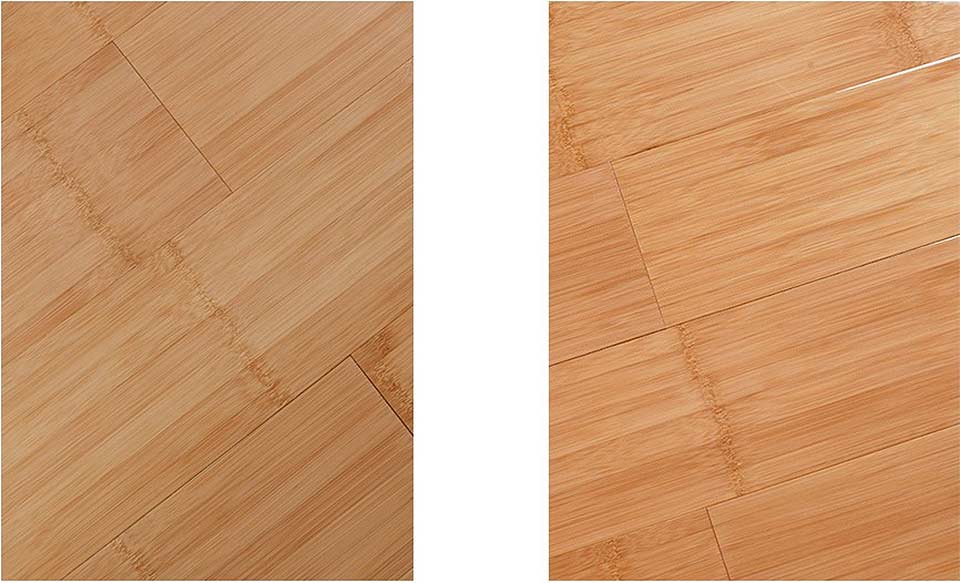 Carbonized Bamboo Flooring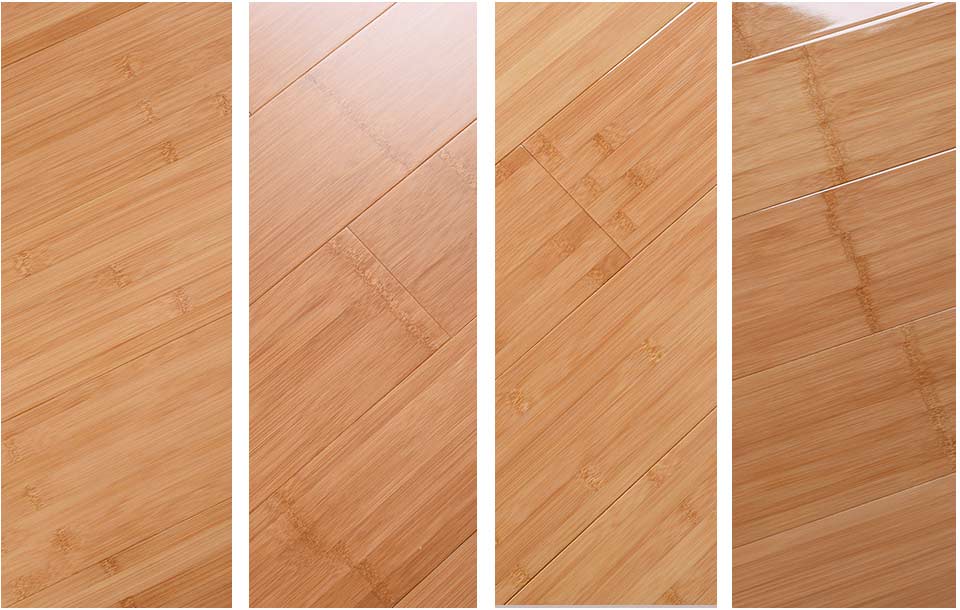 Natural Carbonized Bamboo Floor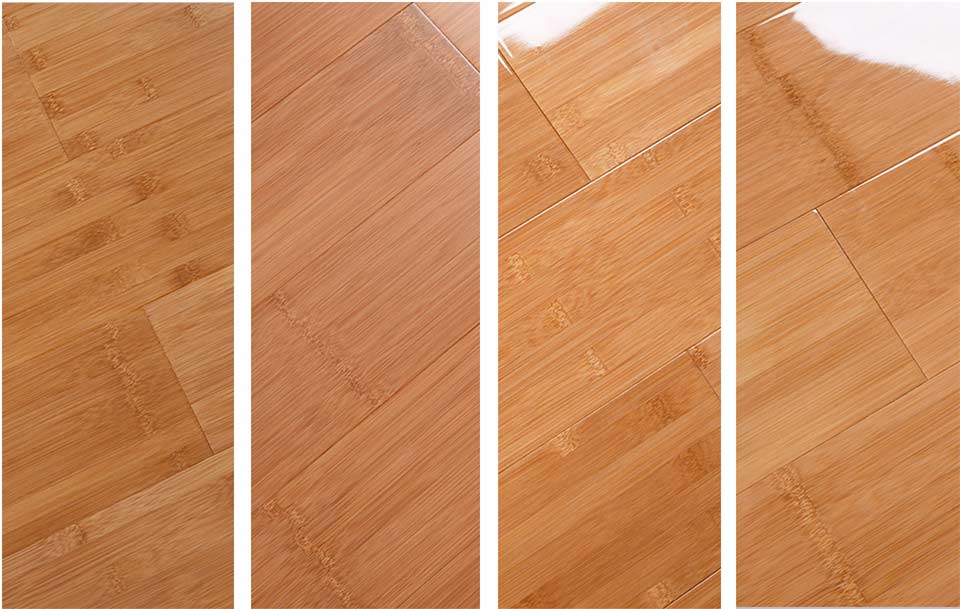 Bamboo Flooring Advantage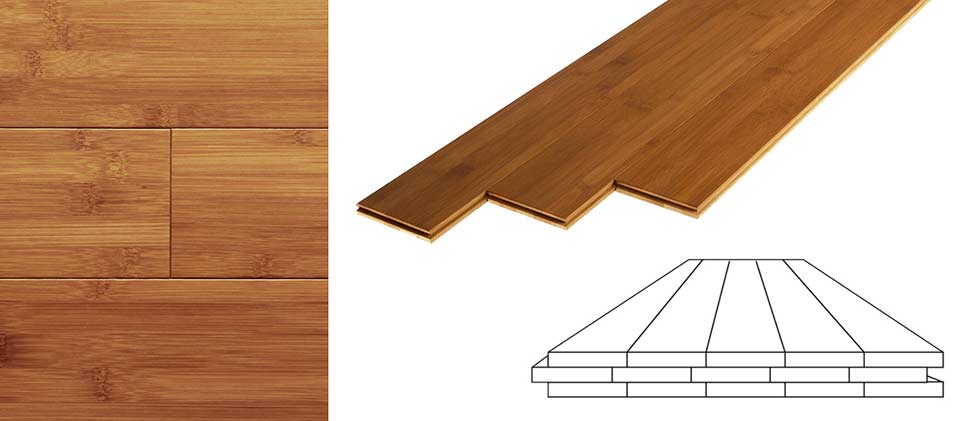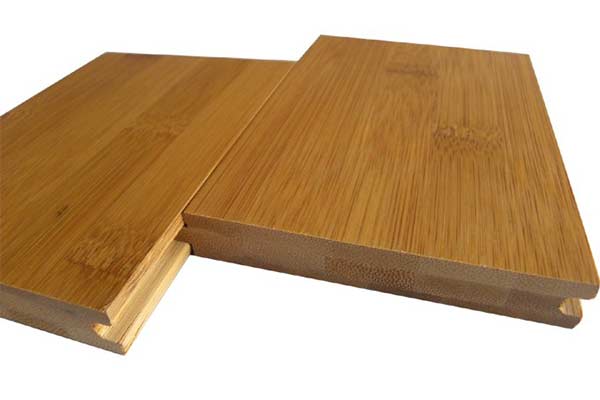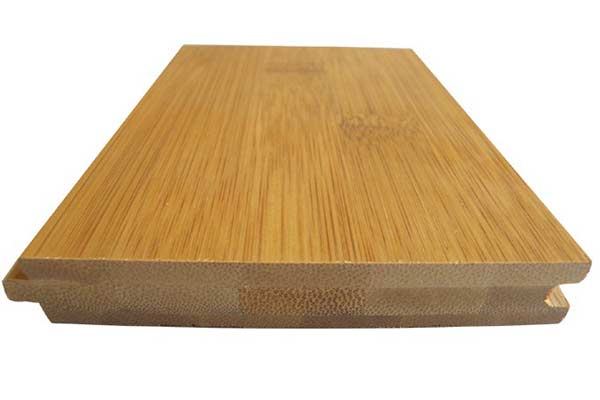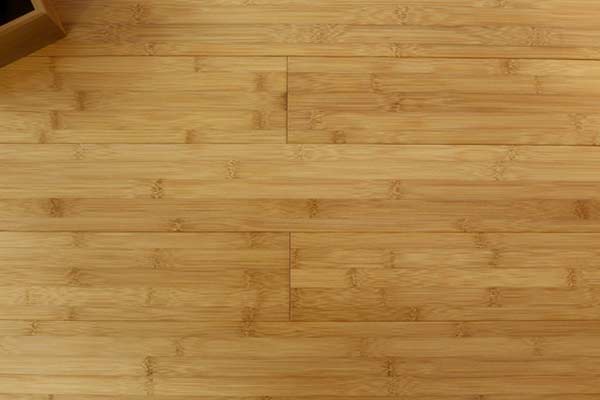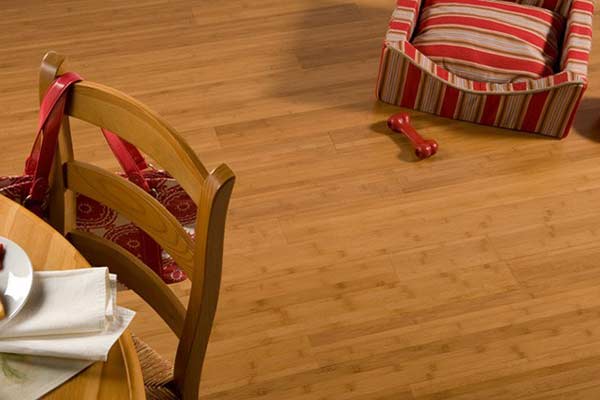 Bamboo Flooring Technical Data
| | |
| --- | --- |
| 1) Materials: | 100% Raw Bamboo |
| 2) Colors: | Carbonized/Natural |
| 3) Size: | 1025*128*15mm/1025*128*17mm960*196*15mm/960*196*10mm |
| 4) Moisture content: | 8%-12% |
| 5) Formaldehyde emission: | Up to E1 standard of Europe |
| 6) Varnish: | Treffert |
| 7) Glue: | Dynea |
| 8) Glossiness: | Matt, Semi gloss or high gloss |
| 9) Joint: | Tongue & Groove (T& G) click ; Unilin+Drop click |
| 10) Supply ability: | 110,000m2 / month |
| 11) Certificate: | CE Certification , ISO 9001:2008, ISO 14001:2004 |
| 12) Packing: | Plastic films with carton box |
| 13) Delivery Time: | Within 25 days after received advance payment |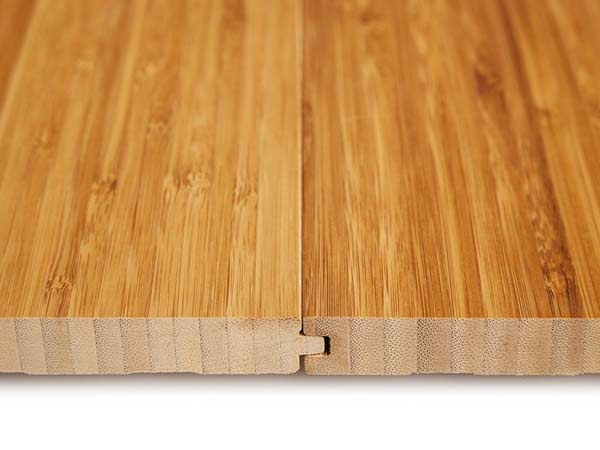 T&G LOCK BAMBOO-Bamboo Florinig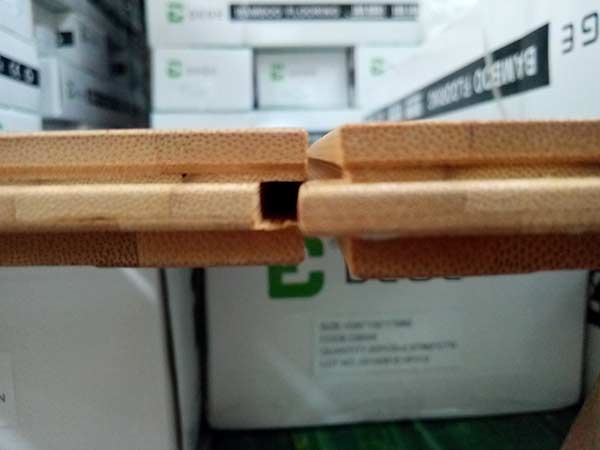 Bamboo T&G -Bamboo Florinig
B: Drop (short side)+ Unilin click (length side)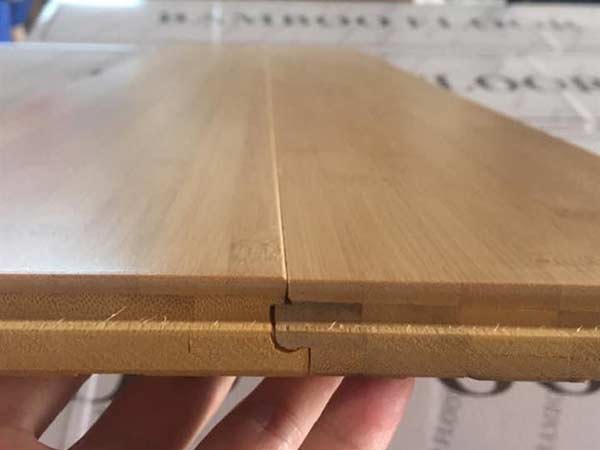 Bamboo flooring package list
Type
Size
Package
NO Pallet/20FCL
Pallet/20FCL
Size of Box
 G.W.
 N.W.
Carbonized Bamboo
1020*130*15mm
20pcs/ctn
660 ctns/1750.32 sqm
10 plt,           52ctns/plt,520ctns/1379.04 sqms
1040*280*165
28kgs
27kgs
1020*130*17mm
18pcs/ctn
640 ctns/1575.29 sqm
10 plt,             52ctns/plt,520ctns/1241.14 sqms
1040*280*165
28kgs
27kgs
960*96*15mm
27pcs/ctn
710 ctns/ 1766.71 sqm
9 plt,            56ctns/plt,504ctns/1254.10 sqms
980*305*145
26kgs
25kgs
960*96*10mm
39pcs/ctn
710 ctns/ 2551.91 sqm
9 plt,            56ctns/plt,504ctns/1810.57 sqms
980*305*145
25kgs
24kgs
Strand Woven Bamboo
1850*125*14mm
8pcs/ctn
 672 ctn, 1243.2sqm
970*285*175
 29 kg
 28 kg
960*96*15mm
24pcs/ctn
560 ctn, 1238.63sqm
980*305*145
26 kg
25 kg
950*136*17mm
18pcs/ctn
672ctn, 1562.80sqm
970*285*175
29 kg
28kg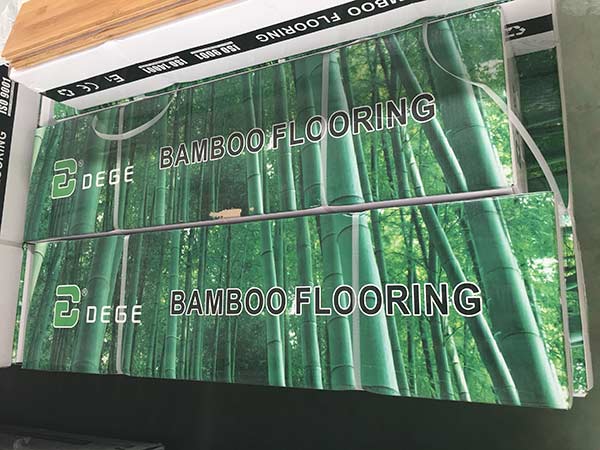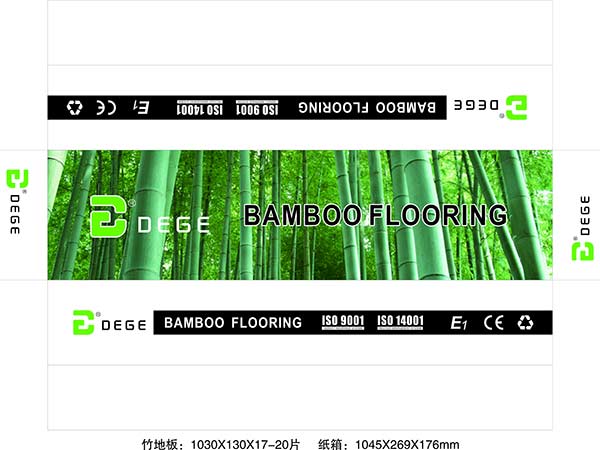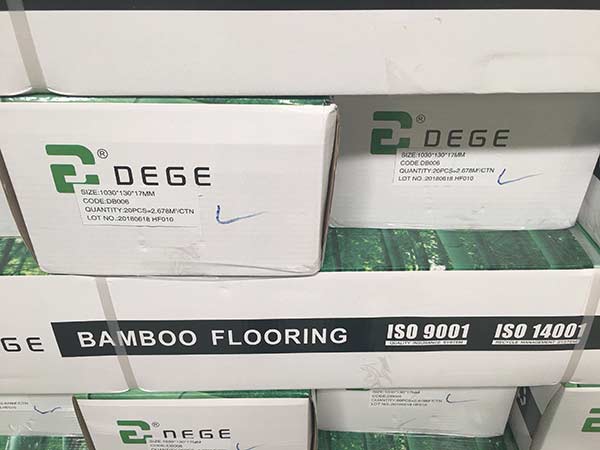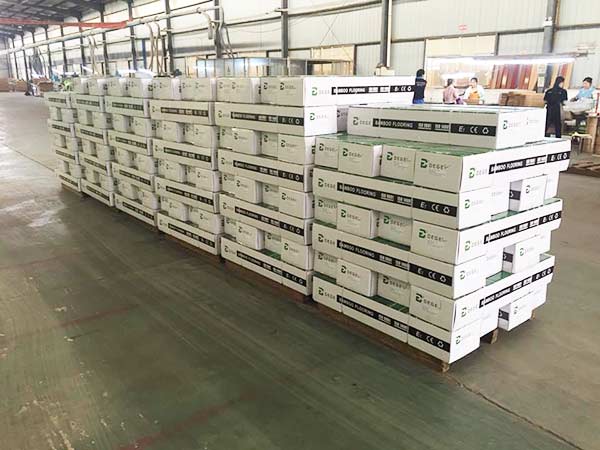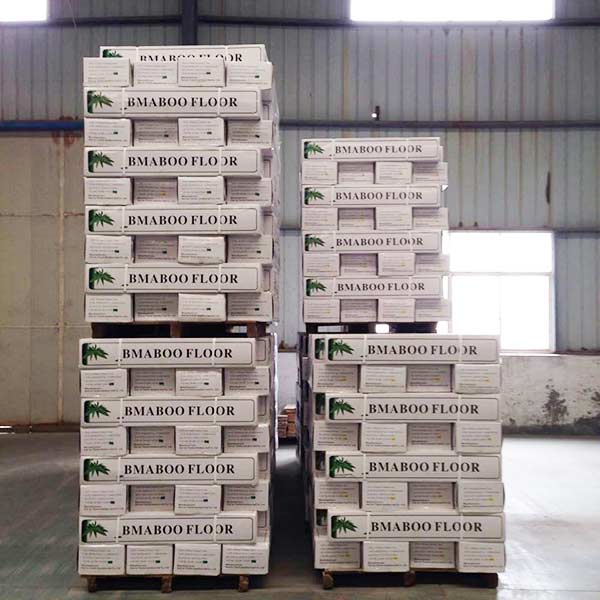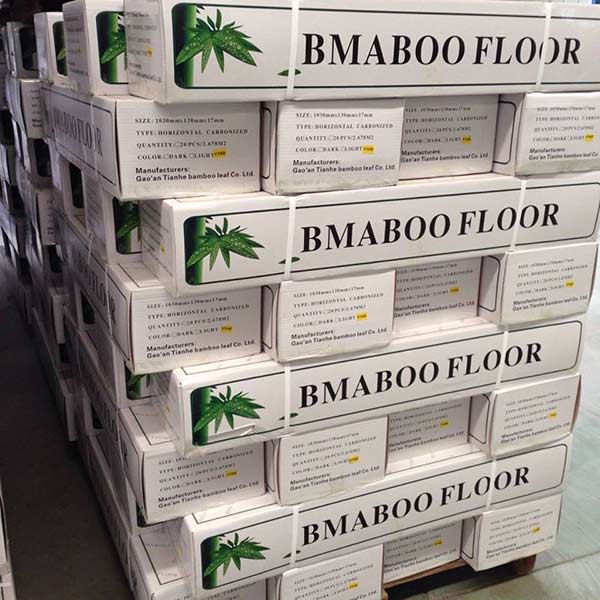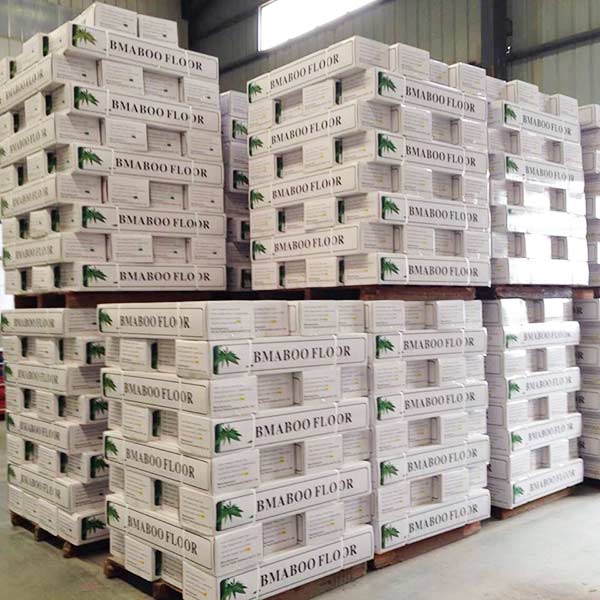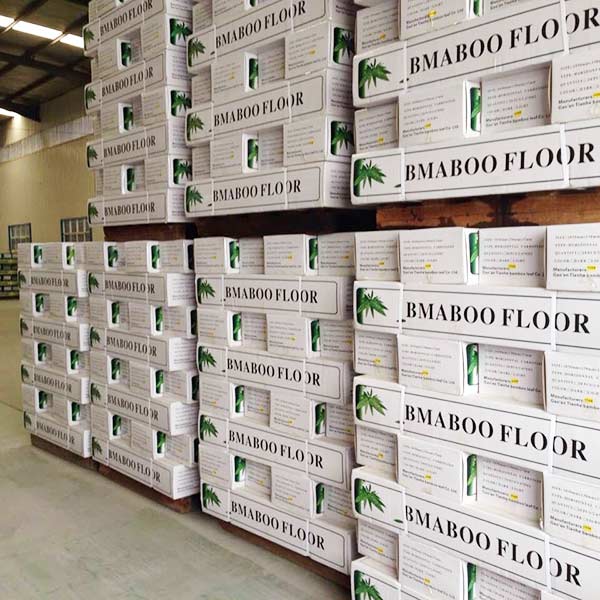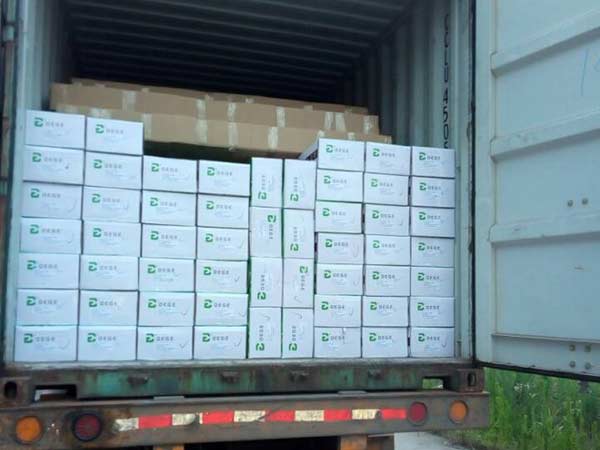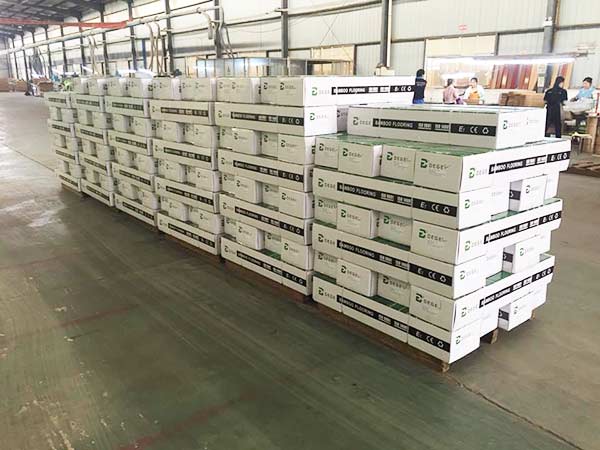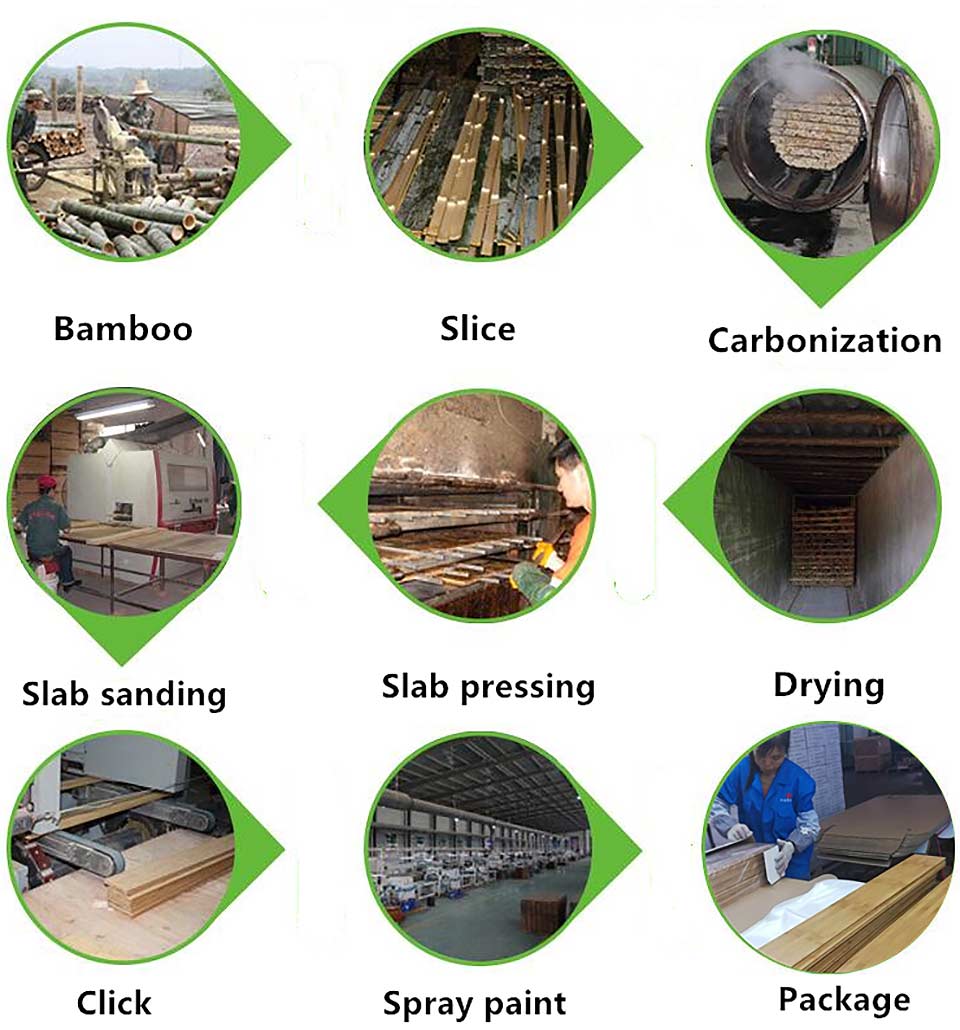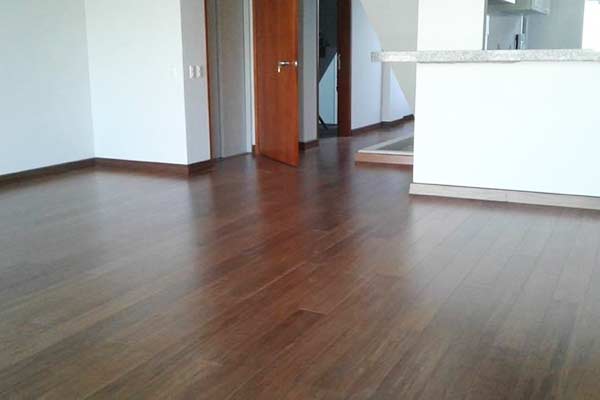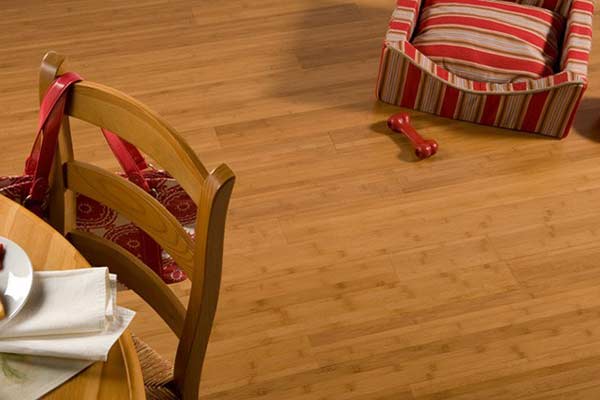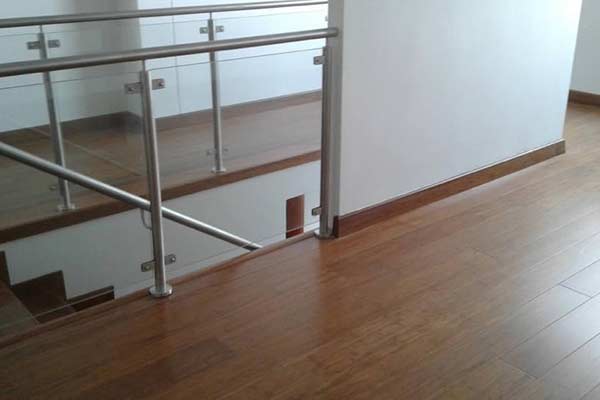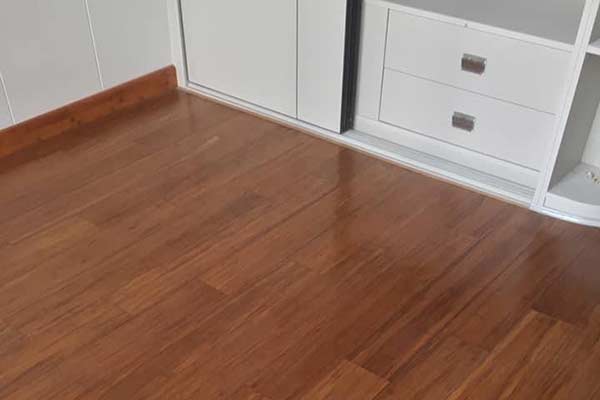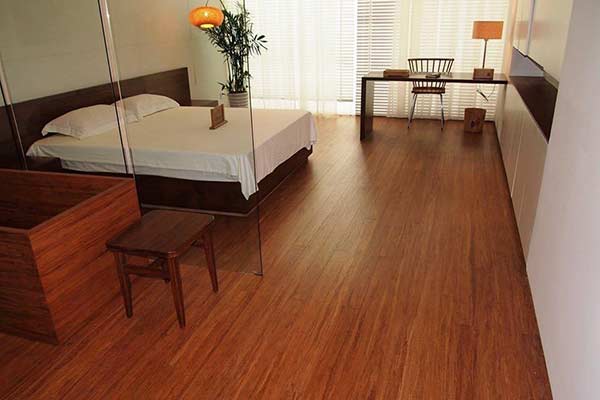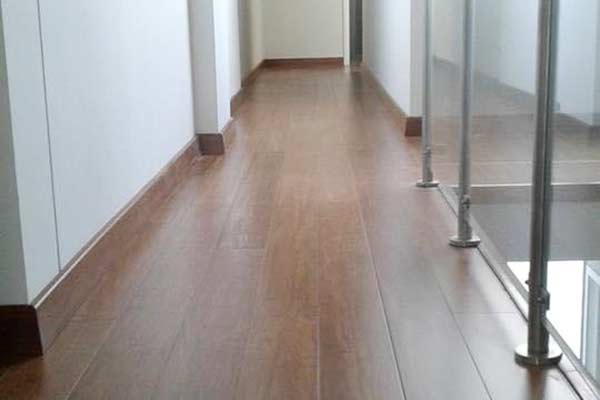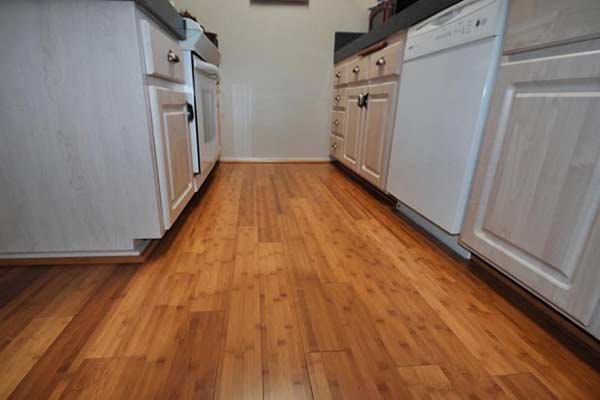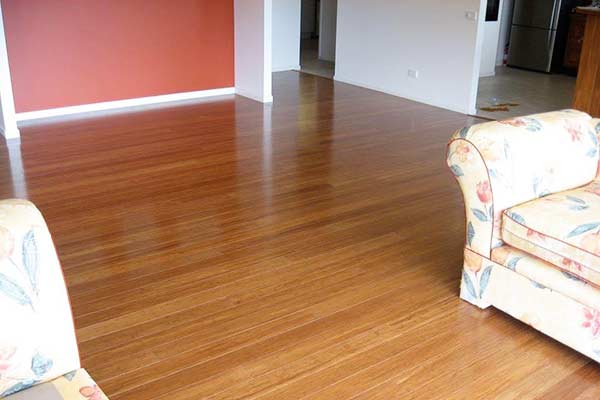 ---
---

How is bamboo floor installed (detailed version)
  Bamboo wood floor installation is not much different from standard hardwood floor installation. For homeowners, the primary motivation for doing bamboo wood floor installation is to save money. It can be installed in half the cost by doing it yourself. Installing a bamboo floor can be an easy weekend project.
Basic Instructions: Prior to installation of any flooring, you should ensure that the job site and subfloor meet the necessary requirements. The important steps in installation take place before putting in the bamboo floor.Here are a few guidelines:
The first step in bamboo wood floor installation is making sure the subfloor is:
√ Structurally sound
√ Clean: Swept and free of debris, wax, grease, paint, sealers, and old adhesives etc
√ Dry: Subfloor must remain dry year-round, and
√ Level Adhesives do not bond well with dirty subfloors and will eventually cause decay, if moist. If not level, the bamboo flooring will squeak when walked on.
√ Remove any old nails or staples from previous flooring material.
√ Examine each floor plank for grade, color, finish, quality and defects.
√ Measure the floor and divide by the number of boards.
√  Lay out flooring for visual selection.
The careful placement of color and grain will enhance the beauty of the finished floor.
√ The flooring material must be stored at the installation site at least 24-72 hours earlier. This allows the flooring to adjust to the room temperature and humidity.
√ Do not store directly on concrete or near outside walls.
√  When purchasing flooring, add 5% to actual square footage needed for cutting allowance.
√  If you're installing the bamboo floor on a second story, then before using the nailer/stapler, first remove light fixtures from the ceilings below. The stapler puts a pressure on the joists and can loosen ceiling-mounted fixtures below.
√  Any job involving water or moisture should be done before the bamboo wood floor installation. A room temperature of 60-70°F and humidity level of 40-60% is recommended.
Important Note: A bamboo wood floor should be the last item installed for any new construction or remodel project. Also, install the floor per the manufacturer's guidelines to protect your warranty.
Installation Tools:
√ Measuring Tape
√ Handsaw (power saw is also helpful)
√  Tapping block (trimmed piece of flooring)
√ Wood or plastic spacers (1/4″)
√ Crow bar or pull bar
√  Hammer
√  Chalk line
√  Pencil
For nail-down installation, you'll also need:
√  A hardwood-appropriate nail gun
√  A nail application chart For glue-down installation, you'll also need:
√  Approved flooring adhesive
√  Adhesive trowel
For floating installation, you'll also need:
√  6-mil poly film foam underlayment
√  PVAC glue
√  Poly tape or duct tape
Pre-installation Instructions:
√  To make the flooring fit underneath, door casings should be undercut or notched out.
√ As the wood expands with an increase in moisture level, a 1/4″ expansion space should be left between flooring and all walls and vertical objects (such as pipes and cabinets). This will be covered during the reapplication of base moldings around the room. Use wood or plastic spacers during installation to maintain this expansion space.
√  Always use a tapping block and hammer to pull planks together. The tapping block should be used against the tongue only, never against the groove of the plank.
√  Always begin each row from the same side of the room.
√  A crow or pull bar can be used to close end joints near a wall.
√  Take care not to damage the edge of flooring.
Getting started: For the best appearance, a bamboo wood floor is often laid parallel to the longest wall or the outside wall, which is usually the straightest and suitable for laying down a straight working line. The direction of the planks should be based on the layout of the room and locations of entrances and windows. A few rows (no glue or nails) can be dry-laid before starting installation to confirm your layout decision and working line. If the room is ready for installation, and all materials and tools are present, a DIYer with some flooring experience can expect to install about 200 square feet in a day. Installment Procedure: There are three common ways for a bamboo wood floor installation: Naildown, gluedown and floating.
1. NAILDOWN or SECRET NAILING: In this method, the bamboo floor is 'secretly' nailed down to a wood subfloor. It is the traditional way of bamboo wood floor installation using nails or staples. All solid flooring and many engineered floors can be installed this way. The floor joists (floor support beams) must be marked to guide installation procedure. Also, the location of floor joists should be marked on the felt paper with chalk lines. These markings will identify where nails and staples should be driven to make a solid connection with the subfloor. The nails or staples are rammed at an angle through the tongue and are hidden by the next piece of flooring. This is why it is called 'blind or secret nailing.' Nail each board every 8″ and within 2″ of each end. Once starter rows are placed, the next planks should be nailed directly above the tongue at a 45o angle. A face nail might be needed in doorways or tight areas where the nailer can't fit. The last two rows will also have to be face nailed in the same manner. A good eye should be kept on nail / staple penetration.
2. GLUING DOWN: This method involves the gluing of the bamboo floor to a subfloor. A glue-down wood floor is installed in a similar way like that of flooring tile. It can be used for installation on both concrete subfloors and on plywood. Engineered flooring can be installed using similar glue-down methods. Bamboo flooring can be glued down using a moisture resistant flooring adhesive (especially urethane type). Read adhesive instructions carefully for proper trowel size and adhesive set time. Water based adhesives should not be used for this purpose. Also, never use the "wet lay" or "loose lay" method of installing. Start with the outside wall and spread as much adhesive as can be covered by the flooring in 1 hour. After applying the adhesive to the subfloor with a trowel, the bamboo flooring planks should be immediately placed with groove facing the wall. Allow for adequate cross ventilation during the procedure. Make sure the floor is still aligned and be careful not to let installed floor move on the wet adhesive. Use damp cloth to immediately remove any adhesive that gets on flooring surface. Walk on the flooring foot-by-foot within 30 minutes of laying the floor to ensure a solid bond with the adhesive. Flooring planks on the boundary line of room may require weight for this bond.
3. FLOATING FLOOR: A floating floor is attached to itself and not to the subfloor. It is installed over various types of cushion underlayment. This method is suitable with any subfloor and is especially recommended for radiant heat or below grade installations. Only wider engineered or cross ply products should be considered for floating. This method involves gluing the tongue and groove joints of the bamboo wood flooring together over an underlay. Start first row with groove toward wall. Glue end-joints of first row by applying adhesive to bottom of groove. Lay subsequent rows of flooring by applying glue to side and end joints and fitting planks together with tapping block.
Post-Installation Care:
√  Remove expansion spacers and reinstall base and/or quarter round moldings to cover the expansion space.
√  Do not allow foot traffic or heavy furniture on floor for 24 hours (if glue-down or floating).
√  Dust mop or vacuum your floor to remove any dirt or debris.


Stair slab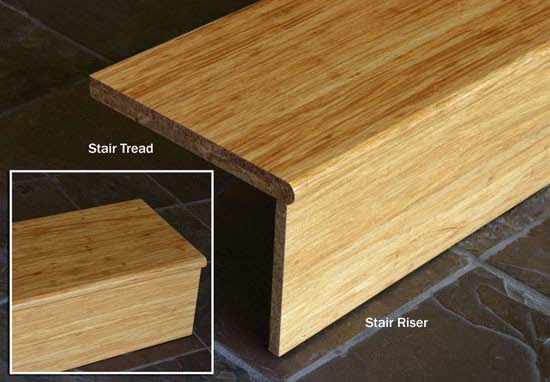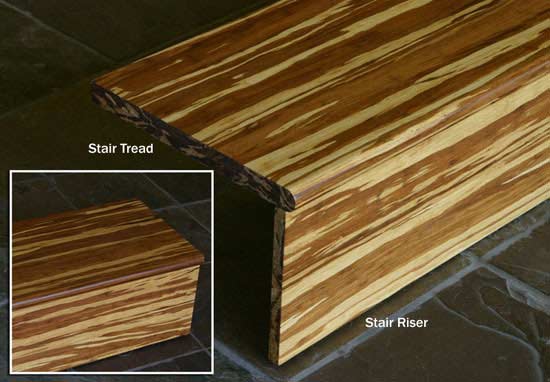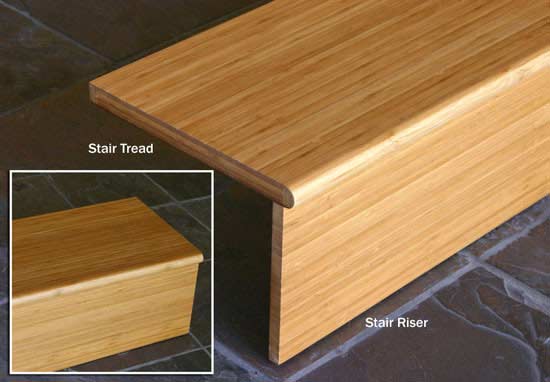 | | | |
| --- | --- | --- |
| Characteristic | Value | Test |
| Density: | 700 kg/m3 | EN 14342:2005 + A1:2008 |
| Brinell hardness: | 4.0 kg/mm² | EN-1534:2010 |
| Moisture content: | 8.3 % at 23°C and 50% relative humidity | EN-1534:2010 |
| Emission class: | Klasse E1 (LT 0,124 mg/m3, EN 717-1) | EN 717-1 |
| Differential swelling: | 0.14% pro 1% change in moisture content | EN 14341:2005 |
| Abrasion resistance: | 9'000 turns | EN-14354 (12/16) |
| Compressability: | 620 kN/cm | EN-ISO 2409 |
| Impact resistance: | 10 mm | EN-14354 |
| Fire properties: | Class Cfl-s1 | EN 13501-1 |
Write your message here and send it to us
RELATED PRODUCTS